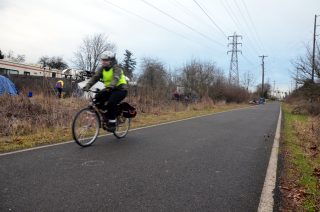 A man living on the Springwater Corridor survived an early-morning "non-life-threatening gunshot wound" Tuesday near the path just east of SE 82nd Avenue, police said.
A news release from the Portland Police Bureau said the suspect also lives along the path, parts of which have become an informal home for people living in tents as local home prices have continued to climb.
The release said police "located and detained a person of interest in the shooting" but did not describe the detainee as the "suspect."
Here's the full release:
On Tuesday July 5, 2016, at 3:06 a.m., East Precinct officers responded to the report of a shooting on the Springwater Trail just East of Southeast 82nd Avenue.

Officers and medical personnel arrived and located the 48-year-old male suffering from a non-life-threatening gunshot wound. The victim was transported by ambulance to a Portland hospital for treatment.

Officers learned that the victim and suspect both reside along the Springwater Trail.

Officers searching the area have located and detained a person-of-interest in the shooting.

Assault detectives and Criminalists from the Forensic Evidence Division are responding to continue the investigation.

Updates will be released later today.
— Michael Andersen, (503) 333-7824 – michael@bikeportland.org
Our work is supported by subscribers. Please become one today.
Michael Andersen was news editor of BikePortland.org from 2013 to 2016 and still pops up occasionally.