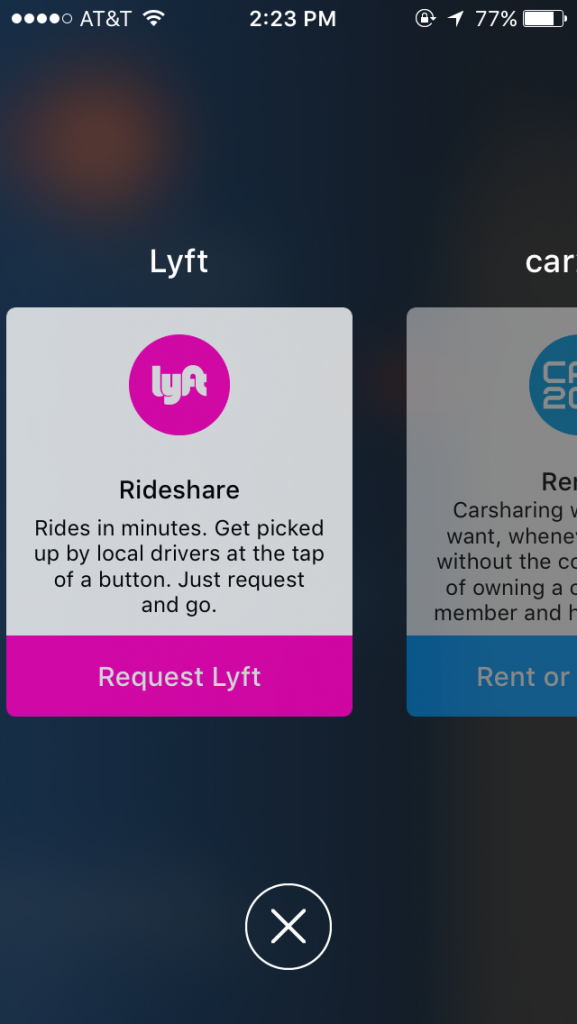 The more seamlessly mobile future we've been talking about since November has started to arrive.
On Thursday, TriMet announced that you can now begin the process of hailing a Lyft or reserving a car2go using their TriMet Tickets app.
"More options, including BIKETOWN bike sharing, are expected be included in the future," the regional transit agency wrote on its website.
This is a milestone for two reasons: first, it seems to be the first time any transit agency in the country has offered this kind of service, which envisions transit users not as monomodal drones who only get around by train or bus but as actual humans who are constantly using different tools for different jobs.
Second, it's a real-life step (though a small one) toward the vision spelled out by cities like Helsinki to "make car ownership pointless" within a decade by creating a single, connected "mesh" of options that can whisk you around the city as efficiently — more efficiently, actually — as owning a car and taking it everywhere with you.
The TriMet Tickets app now lets you check to see how far away the nearest Lyft and car2go rides are, then sends you to those apps if you want to complete the purchase. Unfortunately, there isn't a multimodal trip-planning option. And even more unfortunately, there isn't a way to book whatever trip you need without downloading three separate apps, creating three separate accounts and entering your credit card information three separate times.
That sort of integration will be a major hurdle. If Portland can score $40 million next month from the federal Smart City Challenge, we're likely to make a lot of progress toward it.
The new feature isn't very easy to find in the app. You have to activate the menu and then select "More Rides Nearby," which is explained only with an icon of a bus and a plus sign.
The app update released this week by Moovel (a very promising Portland-based company that we wrote about last month) also fixes some nagging problems with TriMet Tickets, making it easier to use quickly and efficiently. If the TriMet ticket app's functionality improves as consistently as its interface has, we'll be on track for meaningful improvements to mobility in Portland.
— Michael Andersen, (503) 333-7824 – michael@bikeportland.org
Our work is supported by subscribers. Please become one today.