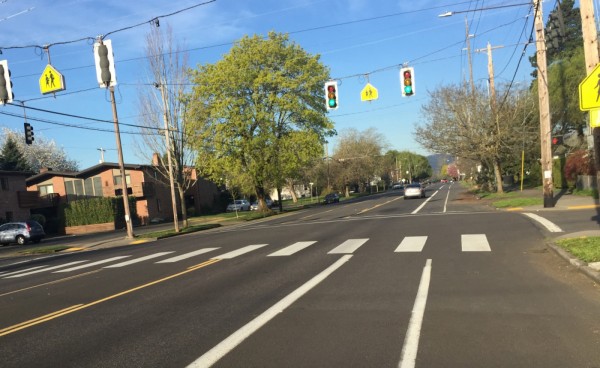 Since Sunday night we've been following two crashes that involve people who were riding bicycles in north Portland. The first happened late Sunday night (3/27) at North Lombard and Jordan Avenue. The most recent one happened just last night on North Rosa Parks Way at Delaware. Here's the latest information we have on both of them…

Several readers contacted us Sunday night after seeing a posting on Nextdoor about a hit-and-run just after 10:00 pm near Darcy's Cafe on Lombard (map). People were posting about a man that was hit and seriously injured by someone driving a blue Honda who then "backed up and sped away from the scene." However, according to Portland Police Bureau spokesman Sgt. Pete Simpson, that might not be what happened.
Simpson confirmed with us today that there was indeed a man who was biking and had been injured when officers arrived. He was ultimately transported to the hospital with "non-life-threatening injuries to his hands and a cheek." How he got that way is unknown at this time. Simpson says officers who talked to people in the area could not confirm he was hit by anyone and that he appeared to have fallen on his own. "Officers noted that the bicycle rider smelled strongly of alcoholic beverage and had slurred speech," Simpson wrote in an email to BikePortland. "Several people in the area said that they did not see him hit by anyone, only that he was down on the ground. His bicycle did not have any damage consistent with being hit by a driver. The bicycle rider, 48-year-old Timothy Malone, said he'd been drinking at a bar and didn't remember anything else."
"Based on the investigation," Simpson wrote, "officers do not believe he was hit by a driver and that he likely crashed due to his intoxication."
Lombard in this section is a state highway (30) that has five lanes: two auto parking lanes, two standard lanes and a center turn lane. Here's the streetview looking toward Jordan:
The other crash happened last night at around 7:20 pm in the intersection of Rosa Parks and Delaware (map). Police say 36-year-old Brian Duncan of North Portland was crossing N Delaware in the crosswalk and with a green light when he was struck. The person who drove their car into him is 84-year-old Louis Hellbusch, also of North Portland. Here's the official statement from police:
"Officers learned that Hellbusch was driving a white 2005 Mercury Marquis westbound on North Rosa Parks Way approaching Delaware Avenue and a red light. Hellbusch continued driving and failed to stop for the red light, striking Duncan in the crosswalk."
As is standard practice, the police did not issue any citations or make an arrest at the scene because the investigation is ongoing and the case is in the hands of the Multnomah County District Attorney's Office. Once the DA has determined whether or not there is any criminal wrongdoing on the part of Hellbusch, they will return the case to the police so they can decide whether or not to cite. We are also in touch with Duncan's brother-in-law who says he's in stable condition "but his injuries are severe."
Rosa Parks in this location has seven lanes: two parking lanes, two bike lanes, two standard lanes and a center turn lane. It's a major east-west thoroughfare in the area for both cycling and driving. The intersection with Delaware is very well-marked because it's in a school zone. There are signals, zebra-striped crosswalks, and caution signage prior to the intersection. I visited the site this morning to take a closer look. Below is the view Duncan would have had, looking southbound on Delaware at Rosa Parks: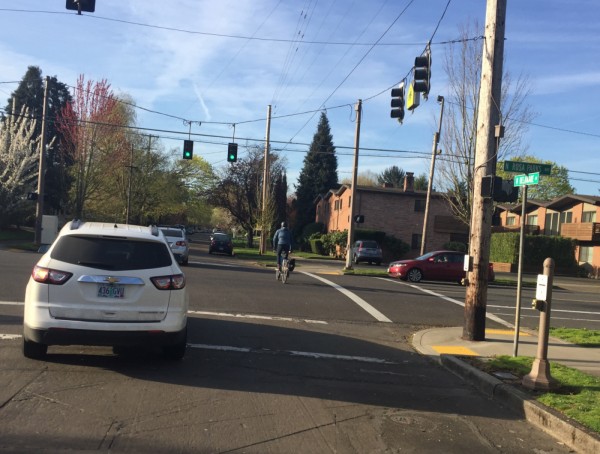 Pieces of Mr. Hellbusch's grill are still littering the roadway in the northwest corner of the intersection:
Stay tuned for any further updates.
— Jonathan Maus, (503) 706-8804 – jonathan@bikeportland.org
BikePortland can't survive without subscribers. It's just $10 per month and you can sign up in a few minutes.