Built in 1927, illegal to build today.
(Photo: M.Andersen/BikePortland)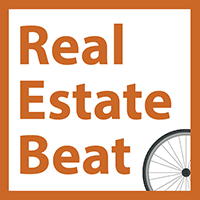 Whether you hate demolitions, love garages, yearn to live in a duplex or just think the rent is too damn high, now's your chance to let the city know.
All this year, the Real Estate Beat has been writing about the ways that Portland could increase the supply of homes in its bikeable areas without totally transforming its understandably beloved residential neighborhoods.
In March, we shared local microdeveloper Eli Spevak's prescription for affordable infill, which drew praise from neighborhood association organizers. In April, we explored one of those ideas: charging lower development fees for smaller homes. In June, we looked at 11 medium-density buildings built before Portland's 1959 zoning reform and asked why they should be illegal.
Further back, we compared the growth patterns of 19 different metro areas since 1990 and concluded that the main difference between affordable and expensive metro areas wasn't so much about whether they built skyscrapers downtown, but whether they allowed other areas to add housing at all.
And of course we've written many times about mandatory parking, including the requirement that almost every new single-family house in Portland have enough space for two cars.
Not all BikePortland readers agree with our general perspective that it's very important to increase the supply of homes in parts of the city that are currently bikeable, walkable and close to good transit.
But whatever it is that you believe, a city survey out until Jan. 12 wants to know your opinion:
This effort was prompted by a wave of concern about changes to Portland neighborhoods as our 10-year housing shortage has developed into a citywide surge in housing prices.
The advisory committee that's handling the effort includes a variety of perspectives — including that of Spevak, who Mayor Charlie Hales recently appointed to the Portland Planning and Sustainability Commission.
"I think there's potentially a deal to be made where we rein in somewhat the massing of homes in infill locations in exchange for a whole lot more flexibility on what happens inside them," Spevak said Friday. "I think that's a potential compromise point that can get us some more affordable housing."
— Michael Andersen, (503) 333-7824 – michael@bikeportland.org