Backers say the proposal would encourage smaller, more densely built houses.
(Photo:
Mark McClure
)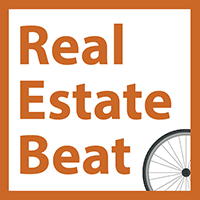 For years, almost every new home built in Portland has paid thousands of dollars into a city fund that pays to buy and develop parkland. But so far, the size of the home hasn't affected the size of the fee.
If it were built today, a 900-square-foot bungalow would pay the same $8,582 parks fee as a 3,100-square foot 4-bedroom.
But in a proposal that could shift the local economy toward building smaller homes — and potentially provide a boost for bike infrastructure funding — the Portland Parks Bureau is suggesting that its fees on new homes become proportional to the number of people who are likely to live in them, based on their square footage.
Under the Parks Bureau's most recent proposal (PDF), its fees on a single-family home of 1,000 square feet or smaller outside the central city would fall from $8,582 to $6,773.
Fees on a home of 2,500 square feet or more, by contrast, would shoot up from $8,582 to $13,185.
Another change: instead of dividing the world into "multi-family" and "single-family" units and charging more for single-family homes such as freestanding houses and duplexes, the new fee structure would base rates only on size.
Eli Spevak, a local developer who supports the idea of scaling fees, said Thursday that after failing to secure three votes at a city council meeting last week, the proposed parks fee changes have "gone backroom" as undecided city council members weigh their options.
Development fees, known in Portland as system development charges or SDCs, cover some of the city's transportation, water and sewer costs as well as its new parks expenses. As local developers have scrambled to build homes fast enough to serve the flood of new would-be Portlanders, SDCs have been swelling city budgets.
That's been good news for bike-related Parks Bureau projects like Gateway Green and the Columbia Slough Trail.
Now, the Parks and Recreation Bureau (backed by its current and previous political bosses, city commissioners Amanda Fritz and Nick Fish) is proposing two changes to its fees. First, it's proposing the new calculation method that would include, for the first time, scaling fees by building size. Second, it's proposing a hike to the total amount of revenue the fees would raise.
Jim Labbe, a biking and natural space advocate with the Audubon Society of Portland, said Thursday that higher parks fees would be a big boost for bike infrastructure.
"There's going to be money for North Portland Greenway — if it's going to be built, it's going to be partially built with park SDC funds," Labbe said. "If the city ever gets to the point where they ever do singletrack, it's going to be partially funded by SDCs."
But higher parks fees also threaten to drive up development costs in a city where a decade-long housing shortage has driven rents and home prices skyward.
Some say the proposal to scale the fees by home size could take some of the bite off that problem for smaller units.
"We should definitely be encouraging those kind of units by lowering their costs," said Ben Schonberger of Winterbrook Planning. "When you have just a big dumb flat fee model that charges the same SDCs regardless of unit size, that encourages people to build as big as possible."
Justin Wood, associate director of government relations for the Home Builders Association of Metropolitan Portland, said that he has concerns about the legality of the scaling method, but not the general concept.
"I like the principle," he said. "Everything else when I build the house goes up and down based on how big the house is."
He said that if the fee increase were lower, the scaling proposal might not be a major issue.
"If the fees had come out less I don't know that there would have been the general pushback that you have now," Wood said.
Wood and Schonberger both said, however, that even if the fee hikes are approved, developers aren't actually likely to kill many projects over several thousand dollars in fees.
"They put that in their giant spreadsheet of costs and think about it, but it really comes down to much bigger issues like zoning costs and parking requirements," Schonberger said. "Those factors are going to be a lot more significant."
— The Real Estate Beat is a regular column. You can sign up to get an email of Real Estate Beat posts (and nothing else) here, or read past installments here. This sponsorship has opened up and we're looking for our next partner. If interested, please call Jonathan at (503) 706-8804.