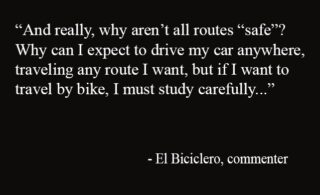 If you haven't read Jonathan's haunting, exclusive report that Martin Greenough seems to have been killed on his very first bike commute, two weeks after moving to Portland, it's not one to miss.
Part of the story is that the city's official bike map inaccurately suggests that Lombard is a fine place to bike. But as BikePortland reader El Biciclero pointed out in a must-read response, the problem here is not really with the map.
The problem is that the only way to bike around Portland without near-death experiences is to use a map.
"'He had just bought his bike… Saturday night might have been the first time he commuted to that location and back,' Monica said.

He very likely had no idea there was a dangerous gap in the bikeway on his way home."

This is what rankles me. Martin didn't study hard enough before attempting to get from A to B on a bike. As a bicyclist, I can't trust maps, Google, GPS—anything—to point me to a "safe" route. And really, why aren't all routes "safe"? Why can I expect to drive my car anywhere, traveling any route I want, but if I want to travel by bike, I must study carefully, make trial runs, review video, check maps and street views, cross-referencing multiple sources to see whether the bike lane drops or there is a left turn signal, or a way around that doesn't involve left turns or two-way stops, find out what the de facto speed is on a street that is signed for 30 mph, hope the shoulder or bike lane is as wide as it looks online and there aren't huge drainage pits in it and the stripes haven't worn off since the last time the Google photo car drove by (I have started looking at the "image capture" dates on Google street view to get some notion of whether the picture is still accurate for places I haven't been). If I don't do all of the above I could DIE.

If I hop in my car and follow my nose, the worst I can expect is getting lost.

We should never, ever have to ask "why would anyone ride their bike on that route?"
We'll leave it at that.
Yes, we pay for good comments. This regular feature is sponsored by readers who've become BikePortland subscribers to keep our site and our community strong. We'll be sending $5 and a little goodie bag to El Biciclero in thanks for this great addition. Watch your email!