An open house event tomorrow night (11/19) will be your chance to see what the Oregon Department of Transportation (ODOT) has planned to improve safety on Broadway where it passes over Interstate 5.
Changes to the notorious section of Broadway near Wheeler and Flint were a focus of the city's N/NE Quadrant planning process back in 2012 and they were included as "near-term solutions" within a larger, $400 million ODOT project to widen I-5 through the Rose Quarter.
With that large-scale proposal years away from fruition (if it ever happens at all), local neighborhood activists pressed ODOT to do something more immediate to remedy the many traffic safety issues in the area of the Broadway-Weidler couplet just west of I-5. We've been highlighting safety issues at this location for over seven years – ever since the Portland Water Bureau prohibited its fleet vehicles from making right turns onto Wheeler due to right-hook concerns.

Back in 2012, Betsy Reese, former owner of the Paramount Apartments that are bordered by Flint and Wheeler, successfully lobbied ODOT to address some of the issues. Tomorrow's open house will be a chance to see the results of that advocacy and ask ODOT staffers questions about the project before it enters the final design stage (late 2015) and — if funding materializes — construction (summer 2016).
Here are the elements of the I-5 Southbound Off-Ramp at North Broadway Project (which is, by the way, a joint effort from PBOT and ODOT):
Realign the right turn lane – referred to as a "slip lane" – located at the I-5 southbound off-ramp (Exit 302 A) at N. Broadway (an element of the N/NE Quadrant Plan).
Install a Pedestrian Hybrid Beacon at the existing crosswalk at the streetcar platform on N. Broadway between N. Ross Ave and N. Wheeler Ave.
Replace the traffic signal at the intersection of N. Broadway, I-5 off- ramp and N. Vancouver Avenue with a standard signal.
Extend the curb on the southeast corner of the intersection of N. Broadway and N. Wheeler Ave.
Reconnect the sidewalk due to the ramp realignment on the north side of N. Broadway from the I-5 off-ramp to N. Flint Ave.
Install ADA accessible curb ramps at the intersection of N. Broadway and N. Vancouver Avenue and at other locations within the project area.
For clarity, ODOT has produced this graphic of the proposed changes:
Click to enlarge
The realignment of that "slip lane" is a big deal because it should make bicycling on Broadway much safer. Currently, people use that off-ramp and often roll the stop sign right onto Broadway. That behavior creates a potential for collisions not just at the off-ramp, but also at North Flint, a very busy biking street just a few yards to the west.
The image below shows the slip ramp and N Flint (looking toward the west). Notice how the angle of the slip ramp entices people to roll right onto Broadway without coming to a full stop.
Here's a view looking southwest from the Flint overpass of I-5: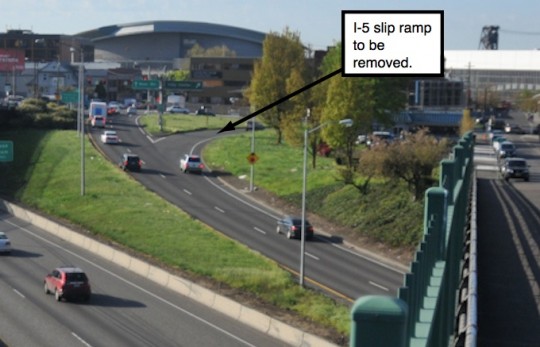 (Photo by J. Maus/BikePortland)
The other elements of these near term fixes are also important to the overall goal of making the Broadway/Weidler/I-5 area a more pleasant place to be — especially that much-needed curb extension at the southeast corner of Broadway/Wheeler (the Leftbank building).
If you have experiences with this area and feedback to share with project managers, contact Dee Hidalgo with ODOT community affairs via email at Dee.Hidalgo@odot.state.or.us.
Also don't forget to stop by the open house event tomorrow (11/19). It's from 5-7:00 pm at the Leftbank Annex, 2nd Floor (101 N Weidler).
For more info, visit the project website.
If you have questions or feedback about this site or my work, feel free to contact me at @jonathan_maus on Twitter, via email at maus.jonathan@gmail.com, or phone/text at 503-706-8804. Also, if you read and appreciate this site, please become a supporter.