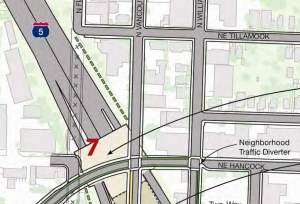 The plans would get rid of
existing bridge on Flint and
build a new overcrossing at Hancock.
After 16 months of meetings and open houses, the Portland Bureau of Transportation (PBOT) and the Oregon Department of Transportation (ODOT) will share their "Draft I-5 Facility Plan" at a public, stakeholder advisory committee (SAC) tonight. The plans — estimated to cost $300-$400 million — call for adding two new lanes to I-5 as well as 8-10 foot "break down" shoulders, revamping on-ramps, adding new overcrossings, and making changes to surface streets in the area.
The State of Oregon has wanted to expand I-5 through the Rose Quarter area for decades and the ongoing N/NE Quadrant and I-5 Broadway/Weidler Plans (part of the Central City 2035 planning effort) have given them a golden opportunity to do so.
When this process first started back in December 2010, we raised concerns after some very auto and freeway-centric plans emerged.
Fast forward to this past February when new plans were unveiled, and it was clear that those initial plans had been tamped down to include more attention to surface street connections and improving bicycle circulation. That being said, these plans would still spend hundreds of millions of dollars to expand I-5 and increase the motor-vehicle footprint in what should be a thriving, human-scale part of our city.
Here are the project's objectives, as laid out at an open house back in February:
To project planners, the new lanes, wider shoulders, and new on-ramp/off-ramp locations for I-5 are crucial to improve safety of freeway traffic. ODOT says this 1/2 mile stretch of I-5 has many more collisions than it should and they blame the excessive weaving and unsafe traffic behavior on the narrow freeway cross-section and poorly placed ramps. Throughout this process, project staff have maintained that this expansion is more about safety than about easing congestion and increasing freeway capacity.
At open houses throughout this process, ODOT has worked hard to make the case that the existing freeway is too narrow. Below is an image from a poster at the February open house that attempts to justify the new lanes and widening:
The potential of expanding an urban freeway in an era of decreasing auto use and volatile fuel prices has given skeptics and activists reason to worry. One of them even called this "CRC Phase 2" (a reference to the controversial Columbia River Crossing highway mega-project).
I asked ODOT's Todd Juhasz about this back in February. He said they're not trying to "meet the capacity of the CRC" and that the new "auxiliary lanes" they want to add are simply to, "allow more space for vehicles to get on into the flow of traffic or off with more space." The new lanes, he said, will reduce side swipe and rear-end collisions.
Reducing the overall number of cars and trucks using I-5 and other streets in this area (known as transportation demand management (TDM) and transportation system management (TSM)) are also in the plans; however project staff have said that these measures alone would not solve the congestion (and therefore safety) issues.
Freeway expansions aside, the plans also call for major changes that would impact bicycling in the area:
That pesky diagonal intersection at Wheeler and Winning Way that leads onto I-5 would be moved up to Weidler.
On Williams, between Broadway and Weidler, bike traffic would run both ways in a center-running median. The plans call for a, "wide, grade separated, multi-use path."
A new, carfree I-5 overcrossing would be built to connect NE Clackamas in the Lloyd District to Winning Way near the Rose Garden Arena.
Two (and potentially three) "lids" over I-5 would be built between Broadway and just north of Hancock. These would cut down on freeway noise and could make bicycling less stressful.
The bridge over I-5 on N. Flint would be removed and southbound traffic would instead use N Vancouver to Hancock, where a new bridge over I-5 would be built. It would connect to N. Dixon. This would eliminate the notoriously dangerous and annoying Flint/Broadway intersection. Also, in order to cut down on cut-through traffic through the Eliot neighborhood, plans call for traffic diverters at the Hancock/Williams intersection.
Here's an overview of the main changes in the plans: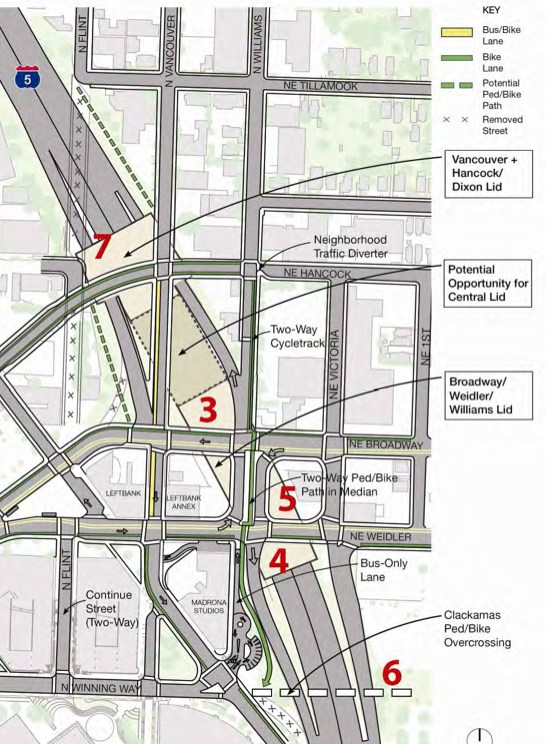 Given the high-profile mess that Flint/Broadway/Wheeler has become, that last point is probably the most important one. In formal comments to the project's SAC, the City of Portland's Bicycle Advisory Committee wrote: "The Committee generally supports Option 3 (Vancouver + Hancock/Dixon) although we feel that certain intersections will require a finer level of detail to ensure safe bicycle and pedestrian circulation."
The PBAC added that "enhancing the local network is an integral aspect of this project" and that they want to make sure the bicycle-related elements and local surface street improvements are maintained when/if the plans move forward.
"The associated surface street improvements… while attractive, do not offset the obvious negative consequences of the freeway proposal."
— Mike Warwick, project SAC member and Eliot Neighborhood Association Land Use Chair
Transportation activists with local non-profit Active Right of Way aren't as supportive. They are generally skeptical of ODOT/PBOT's intentions and they see this as nothing more than a freeway expansion project and they'd rather see the interchanges and expansions happen further from the central city (or not at all).
The Eliot Neighborhood Association, which represents people who live directly adjacent to I-5 and who would be most impacted by the plans (if they were ever implemented), opposes it. Neighborhood Land Use Committee Chair and SAC member Mike Warwick says they flat-out oppose any widening of I-5. "This proposal promises far more damage to our inner city neighborhoods than the benefits it is purported to provide." Even if the local surface street improvements were done, Warwick wrote in their official position that, "while attractive, they do not offset the obvious negative consequences of the freeway proposal."
Besty Reese, who owns the Paramount Apartments and is also on the SAC for the project, also sees surface street improvements as key. "If we have to have a freeway expansion through the middle of our city," she shared with us via email yesterday, "than let's at least make sure we get all we can for neighborhoods, surface streets, public transportation, bikes and pedestrians as part of the package."
Project staff will accept public comments at the SAC meeting tonight, where the plans will be discussed and a vote to endorse (or reject) the plan could be held. There will also be public comment taken at the next SAC meeting on June 28th. If you can't make the meetings, you can contact ODOT senior project staffer Todd Juhasz at (503) 731-4753 or via email at todd.juhasz [at] odot.state.or.us.
Learn more at the project website and by reading this article in The Oregonian from yesterday.