"We want to take a leadership role with this, and we hope that other bureaus and divisions in the city take note."
–Jeff Guard, risk specialist with the Portland Water Bureau
As part of a proactive effort to increase bike safety around their Interstate facility, The City of Portland's Water Bureau will issue a mandate to employees next week that prohibits all their vehicles from using N Wheeler Avenue.
Wheeler used to provide convenient access to the Water Bureau's main Interstate facility, but this move comes in light of a growing concern for bike safety and potential collisions with bicycles at the notoriously dangerous intersection of at Wheeler, Broadway, and Flint Avenues (in graphic below).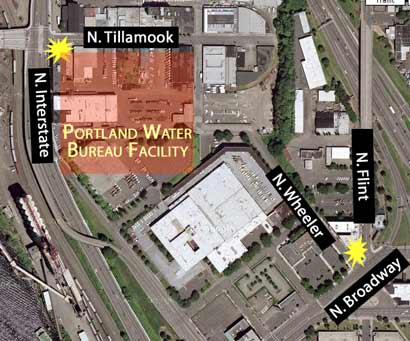 Yellow areas mark intersections where the Water Bureau is concerned about truck/bike conflicts.
The decision to stop using Wheeler comes as part of a broad bike safety movement within the Water Bureau (that I first reported on back in August) that's being spearheaded by risk and safety specialist Jeff Guard. Besides his job description, Guard has personal inspiration for his work on this effort; he was one of the first people on the scene of the crash that killed Brett Jarolimek (just a few blocks from the Water Bureau facility) back in October.
"Having witnessed that fatality at Interstate and Greeley," he told me today, "I don't want to have that same trauma and emotional damage for anyone here at the Water Bureau…so let's just be good citizens and do what we've got to do."
Guard is primarily concerned with the potential for right-hook collisions by large trucks turning north onto Wheeler from Broadway. But, he says the new mandate will apply to all vehicles "owned or leased" by the Water Bureau.
Guard also plans to meet with other business in the area (including a Portland Public Schools facility) to let them know about the Wheeler ban and encourage them to "pick the ball up and run with it". He will also work with the Water Bureau's public outreach department to let employees coming from other facilities know about the ban.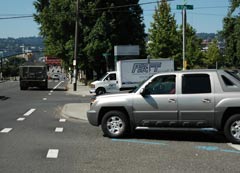 View looking west on Broadway.
The white truck (in background) is on Wheeler.
(Photo: Jonathan Maus)
Instead of turning right (north) onto Wheeler from Broadway, Guard says they will mandate that drivers go down to Larabee and enter the Insterstate facility from N Tillamook Street (view a Google Map of the area).
At a bike safety meeting held last week, Water Bureau employee Jason Gainor said the decision was met with some initial skepticism from truck drivers but now they're coming around to the decision; "At first it was an irritant, but now crews are all doing it without a complaint."
Also at the meeting was Rick Cardoza from the Water Bureau's Public Works department. He said, "It's a hardship for our crews, but we figure the liability is too high…we can't take chances, there have been too many close calls."
The issue stems from the engineering of the triangular intersection of Broadway, Flint and Wheeler Avenues. Flint is a popular bike route that puts bicyclists onto Broadway just a few yards from the intersection with Wheeler. This, combined with the fact that many people disregard the stop sign at Flint, make this one of the most dangerous intersections for bicyclists in the city.
Betsy Reese — who also attended the Water Bureau's recent bike safety meeting — knows about these dangers all too well. Reese owns the Paramount Apartments that are smack-dab in the middle of this intersection and she witnessed a bike/car collision in November. She devoted her building's latest newsletter to "the bicycle issue" and offered safety tips to her tenants.
Reese, along with PDOT, the Water Bureau, the BTA, the Lloyd District Transportation Management Association, and others have all come together to try and improve bike safety at this intersection.
Guard says the Water Bureau's Wheeler ban is just a first step; "We want to take a leadership role with this, and we hope that other bureaus and divisions in the city take note."