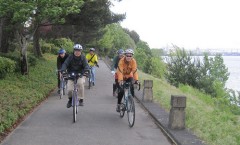 Imagine when it goes all
the way to St. Johns!
(Photo: npGreenway)
Just about five years ago, a small group of Portlanders gathered for the first time to share an audacious vision — a dream to extend the Eastbank Esplanade north from the Steel Bridge to Cathedral Park in St. Johns. Since then, they've coalesced into npGreenway, a non-profit group that has matured right along with their project, turning what was once audacity into something that is closer to reality with each passing month.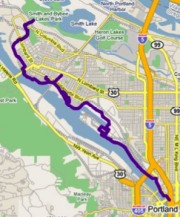 Once built, the trail would
connect St. Johns to the
Steel Bridge.
This Monday (11/8) is npGreenway's annual meeting and open house so I thought it'd be a good time to find out the latest progress on the project. Acting Director Francie Royce shared a list of exciting accomplishments that have been made recently.
A $444,000 trail feasibility study is set to commence soon.
The Going St Bridge — a vital link between the Overlook neighborhood, Swan Island, and the trail — has been widened for easier biking and walking access.

A bridge connecting Chimney and Pier Parks has been funded and construction should occur within 15 months.
The Waud Bluff trail and bridge across rail tracks, connecting North Willamette Blvd adjacent to University of Portland and Swan Island below is partially designed. Construction should occur in two phases over the next two years. Francie says, "This is a vital link for University Park neighbors and others who work at Swan Island or others accessing University of Portland."
The River Plan was approved by Portland City Council in April and it included the northern section of the Willamette River Greenway Trail.
Due to advocacy by npGreenway (and others) multi-use trails were included in the 2030 Bike Plan adopted by City Council back in February.
In addition to all that, npGreenway has completed a seven-minute video about the future trail (thanks to local filmmaker Dan Kaufman). The video will be previewed at the meeting tonight (watch a short teaser below). Also at tonight's meeting will be a keynote by Portland Audubon Conservation Director Bob Sallinger. He'll speak about compatibility of trails with wildlife.
If you'd like to learn more or get involved with this exciting project, consider coming to the open house and meeting on Monday night.
npGreenway Open House/Annual Meeting
Monday, 11/8 at 7:00 pm
Portland Water Pollution Lab (6543 N Burlington Ave – adjacent to Cathedral Park, below the St Johns Bridge)
Details here