From the Kalkhoff USA website.
In the latest sign that e-bikes are becoming more mainstream, a new retail bike shop is set to open soon in the Pearl District.
According to sources, a company named Greenlight LLC will open the shop. They are the U.S. distributors of Kalkhoff Bikes, a German brand that has been in existence since 1919 and has a full line of electric bikes.
After we learned about Greenlight a few days ago, an unemployed reader tipped us off to a job listing for their new retail store (they're looking for a manager).
We haven't heard from the company yet, but according to their website, Kalkhoff has a full range of electric bikes that are sold in 37 countries and are the #1 selling electric bike in Europe.
Here are a few more photos: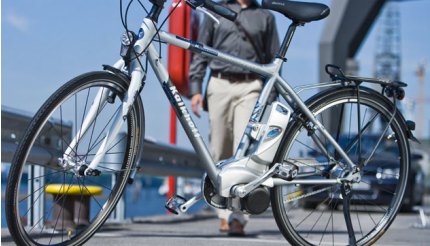 A pretty solid looking bike.
We'll have more on Greenlight and their plans as details become available.
This would be Portland's second independent retail shop that sells electric bikes. The e-Bike Store, which stocks a wide range of e-bike brands and will likely sell the Kalkhoffs, opened on N. Vancouver back in April.
2010 just might be the year e-bikes finally break into the American market in a major way.
In Portland, we've definitely noticed a trend to more e-assist bikes. Bike Gallery now sells the A2B brand electric bikes from Ultra Motor, Bike n' Hike on SE Grand carries a full line of e-bikes from Giant Bicycle, and Joe-Bike on SE Hawthorne has added the Portland-made Ecospeed electric assist unit onto their "Box Bike" model.
On the national front, Trek/Gary Fisher has several e-bikes their lineup for next year (as evidenced in all the photos coming out of TrekWorld this week) and national electronics juggernaut Best Buy is now carrying e-bikes from A2B and iZip.
It will be interesting to see if the riding public adopts these battery-powered bikes on a large scale.