Rising expenses and a decline in customers have led the Community Cycling Center to shift gears on its well-known retail bike shop. The nonprofit that has called Northeast Alberta Street its home for nearly 30 years, announced today the current shop space on the corner of Northeast Alberta and 17th will undergo a major remodel.
"Today we are announcing that we are going back to our roots of being an education center," the CCC said in a statement.
The move comes just days after the CCC's shop won "Best Bike Shop" in the annual Willamette Week Best of Portland poll. Despite the love, the shop just isn't pulling its weight in the organization.
The shop had been a reliable source of funding for the organization's other programs (such as the Holiday Bike Drive, youth summer camps, bike education classes, and so on) for years. But, a statement from the CCC said, "As this funding source becomes less reliable with the changing landscape of cycling in Portland, we realize that we will need to diversify our offerings in order to keep up with the new and changing demands if we are going to provide community services for another 30 years."
According to Interim Executive Director Stef Galen, the plan is to create three new spaces: a membership-based, DIY workspace; a bike repair classroom; and a much smaller, bare-bones retail shop.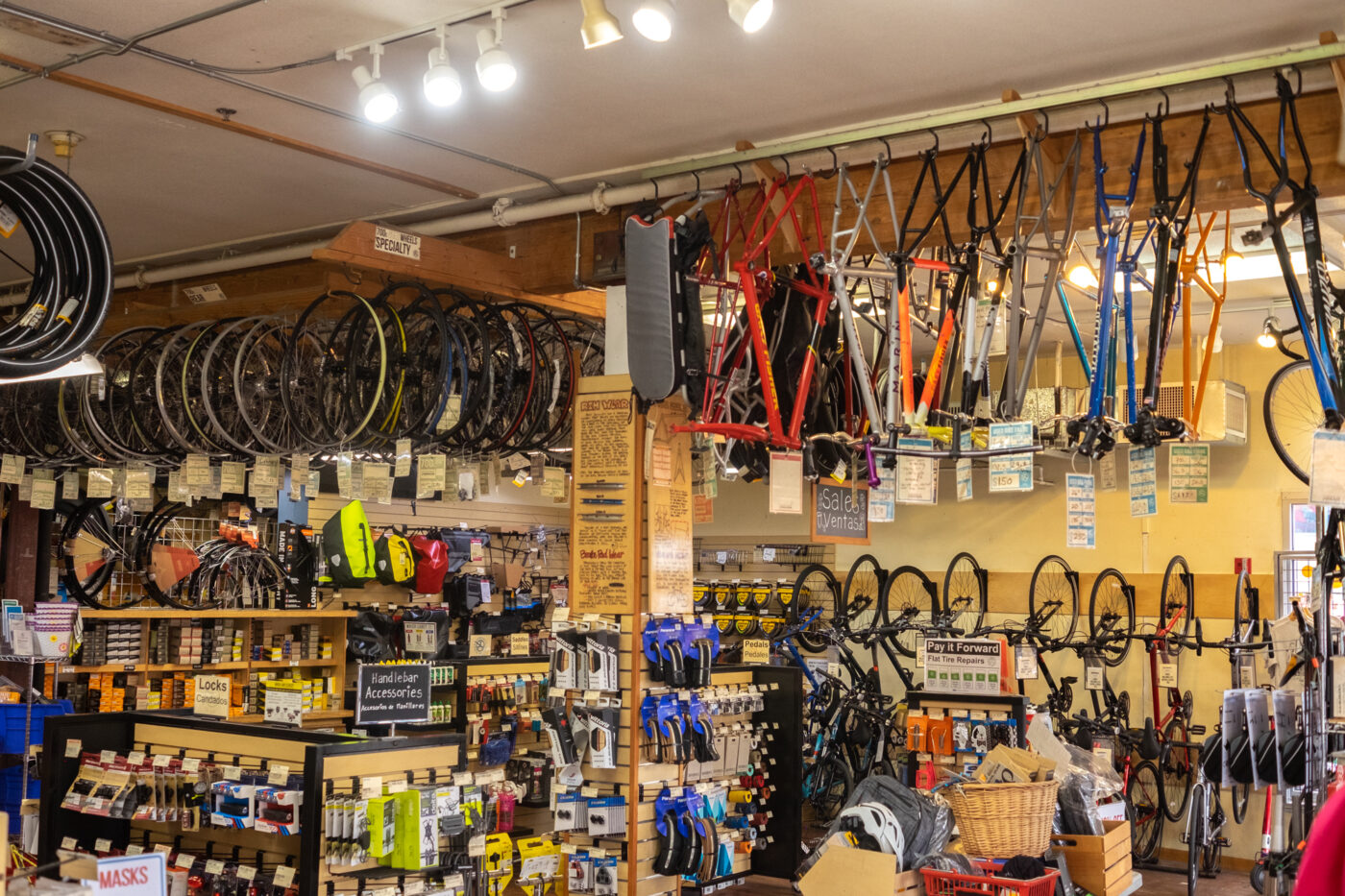 The new membership workspace will be open to anyone in the community who wants to work on their own bike and maintenance and repair classes will be offered by CCC staff. "This new membership-based DIY workshop and class space we will have an additional revenue stream to help grow our current programming to reach even more people throughout Portland," Galen said.
The members-only workspace will take over the large corner location and a new, smaller retail space will open next door.
According to the CCC, many factors figured into their decision. The rise of remote work and corresponding decrease in commuters needing supplies and repairs was cited as the main one. They said Portland's precipitous drop in cycling rates hurt their bottom line.
Back in April, the CCC Bike Shop also became the first bike shop in Portland to unionize.
Asked if higher labor costs related to unionization played a role in the shop decision, CCC Development Director Jacks Volkoff said the organization has paid staff a living wage for many years. "Becoming a union shop has not significantly affected our expenses," they shared. "The cost of labor has increased in Portland, as it has across the country, however, all of our other costs have also grown over the last couple of years."
According to CCC Finance Director Jonnie Ling, shop revenue was historically about 48-50% of the nonprofit's total revenue and about 42-44% of its total expenses. But in the past few years, revenue has dropped to 43-44% and expenses have risen to 58-60% of total revenue. "The shop was quickly becoming our most expensive program despite its revenue generating purpose," Ling shared with BikePortland.
He also alluded to the increased cost of labor and its impact on the CCC's decision. "The bike industry has long relied on cheap labor in order to generate revenue and that reality is changing. While we applaud and champion better wages for bike shop workers, we need to shift our model in order to continue to support the communities most impacted by transportation inequities."
The shop will close on September 18th and the CCC will take about six weeks to remodel the space before re-opening in November. The CCC hasn't shared the cost of the new membership. See their announcement and FAQ for more information.
---
Correction, 8/1: This story originally stated that CCC Finance Director Jonnie Ling was alluding to a recent vote by shop workers to unionize in his statement about higher wages. That was incorrect. The story has been edited and I regret the error.