Posted by Jonathan Maus (Publisher/Editor) on August 13th, 2009 at 3:50 pm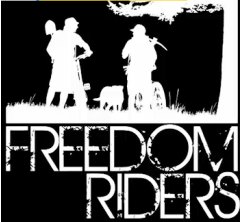 Tonight's screening of the new movie, Freedom Riders, has local off-road riding advocates pumped up. The movie — which creators call "the Dogtown and Z Boys' of mountain biking — chronicles the eight-year journey of a group of mountain bikers in Wyoming who established the first network of freeride trails in the lower 48 states to be officially sanctioned by the U.S. Forest Service.
Kris Schamp, local off-road advocate and communications director of the Northwest Trail Alliance, says the film is about how the culture of freeriders (riders who like jumps, and highly technical trails) is changing rapidly. "Riders and local advocacy/trail building groups nationwide have come to realize that they need to partner closely with land managers and agencies when designing, building and maintaining trails."

According to Schamp, the story told in Freedom Riders mimics how relationships are unfolding between trail riders and landowners in the Portland region. He points to partnerships between advocates, public agencies, and private landowners in Black Rock (near Salem), Post Canyon (in Hood River) and the new freeride trails currently being developed in Stub Stewart State Park in Vernonia, as just some local examples.
At Stub Stewart, the Hillsboro-based Westside Trail Federation has signed a letter of agreement with Oregon Parks & Recreation Department to design, build, and maintain the first ever freeride trail network inside an Oregon State Park.
Freedom Riders screens in Portland tonight at 7:00 and 9:00pm at Clinton Street Theater (2522 SE Clinton St.). More details here. Freedom Riders was created by KGB Productions and Gravnetic. Learn more at FreedomRiderstheMovie.com.
Watch the trailer below: