Thursday, July 23rd, 2015
Explore the streets of Northeast Portland at a biking pace at Sunday Parkways.
(Photo © J.Maus/BikePortland)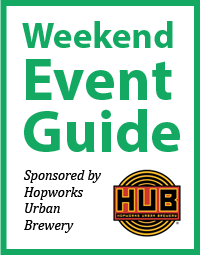 This menu of delicious rides and events is brought to you by our friends at Hopworks Urban Brewery. Their support makes BikePortland possible.
Friday, July 24th
Sprockettes Monthly Ride – 9:15 pm at Irving Park (NE 7th and Fargo)
Ride with the Sprockettes, Portland's mini-bike dance team. Costumes encouraged and be prepared to swim "with a bathing suit or your birthday suit" if it's hot. More info here.
Saturday, July 25th
Saturday Morning Medley – 9:30 am at Wilshire Park (NE 36th and Skidmore)
This is a choose-your-own-adventure ride hosted by the Portland Wheelmen Touring Club. Route options include a flat excursion of 35 miles out to Kelley Point Park, a Lacamas Lake loop, or a jaunt into the West Hills. More info here.
Biking About Architecture – 11:00 am at Bipartisan Cafe (7901 SE Stark)
Jenny Fosmire is back and she's ready to share the wonderful residential architecture of the Mt. Tabor neighborhood in southeast Portland. Expect a 7-mile ride at a laid-back pace while viewing about 25 homes. The ride will end on Hawthorne Blvd so bring some money for post-ride food and drinks. More info here (FB).
(more…)