Friday, April 17th, 2015
Neighbors coming out to support the De Ronde always makes the suffering a bit sweeter.
(Photo J Maus/BikePortland)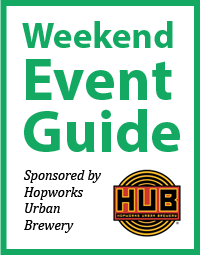 Welcome to your menu of weekend rides and events, lovingly brought to you by our friends at Hopworks Urban Brewery.
I hope you're ready to ride because the forecast for this weekend looks spectacular. It'll start off with what looks like a big new night ride this Friday, joining up with the Dropouts and rolling into the night.
Whatever you do, relax and enjoy a few days off. We've had some intense and important conversations here lately and we need you to be fresh and ready for Monday.
Friday, April 17th