Thursday, October 23rd, 2014
It's 'Thrill the World' weekend and Kidical Mass will be there to join in the creepy fun.
(Photo: J Maus/BikePortland)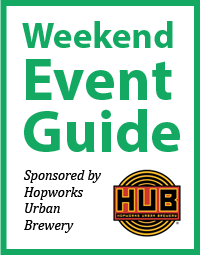 Welcome to your menu of weekend rides and events, lovingly brought to you by our friends at Hopworks Urban Brewery.
I know what you're thinking… Who the heck wants to ride in all this rain!? Well, the truth is, riding in the rain isn't so bad, especially with friends. And besides, there's bound to be a break in the clouds here and there, so why not be prepared with a list of all the fun bike stuff to do?
Grab your jackets, get your fenders on, and have a great (wet) weekend..
Friday, October 24th
Gold Sprints with Revolights – 7:00 pm at Chrome Retail Hub (425 SW 10th Ave)
Revolights, a California-based designer of very cool bicycle lights, is in Portland. Join them at the Chrome store tonight for some fun and gold sprinting. $5 race entry and winner takes all. More info here.
EcoSpeed Kickstarter Crush Party – 7:30 pm at 2330 SE Clatsop
The crew at EcoSpeed wants to celebrate their hugely successful Kickstarter campaign. Join them for a big party that will feature a DJ, free beer and food, a prize giveaway, and lots of lofty prognostications for what will surely be an exciting future. More info here. (more…)