Friday, December 19th, 2014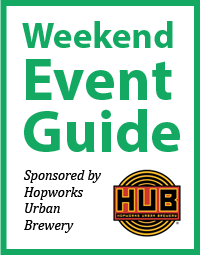 Welcome to your menu of weekend rides and events, lovingly brought to you by our friends at Hopworks Urban Brewery.
You know what's great about this town? Even with the cold/wet weather and the holiday season craziness, there are still fun bike rides and events to take part in.
Whether you are looking for a group ride or an event that lets you connect with other biking fans, there's something for you in the roundup below. I have a feeling many of your bike rides this weekend will be of the shopping variety. If you do plan on doing some gift-buying by bike, remember to lock up your bike well and don't let yourself become a bike prowl victim by leaving stuff in your bike bags.
Have a great weekend!
(more…)