Friday, June 26th, 2015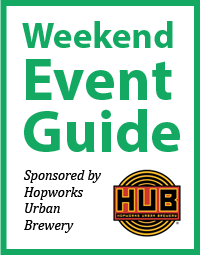 This menu of delicious rides and events is brought to you by our friends at Hopworks Urban Brewery. Their support makes BikePortland possible.
We're having a heat wave, Pedalpalooza is coming to a close, the Supreme Court just voted to support gay marriage across the land and the largest free bike ride of the year is just one day away.
Suffice it to say this is going to be a memorable weekend.
Whether you partake in the costuming, dancing, nakedness or not, there are tons of options to get you inspired to ride. If you do get out there, pack some cold water or a few bucks to stop and get a cold drink (cough, HUB, cough) or frozen treat along the way. It's gonna' be hot! (more…)