by Jonathan Maus (Publisher/Editor) on October 8th, 2015 at 4:41 pm
Whether your watch or ride, Cross Crusade at Alpenrose is unlike anything else.
(Photo © J. Maus/BikePortland)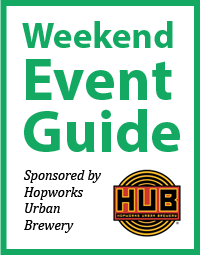 This menu of delicious rides and events is brought to you by our friends at Hopworks Urban Brewery. Their support makes BikePortland possible.
The first weekend of the big Cross Crusade (which holds the world record for most participation in a one-day cross race with over 1,400 racers!) is upon us. There are two races at Alpenrose this weekend — both of which are arguably as much fun to watch as they are to compete.
The forecast calls for rain this weekend, but we think that just adds to the fall spirit. And the dark skies make those brightly colored leaves all the more beautiful. Right? Put on a jacket and get out there.
What do you have planned? Whatever it is, we hope it involves a bicycle. Enjoy your weekend.