Thursday, November 20th, 2014
The Kruger's Crossing race is a great excuse to soak up farm vibes out at Sauvie Island.
(Photo by J. Maus/BikePortland)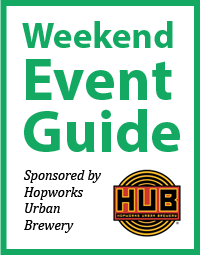 Welcome to your menu of weekend rides and events, lovingly brought to you by our friends at Hopworks Urban Brewery.
I hope you haven't made non-bike plans for Saturday because it's packed with great events.
Imagine if you planted a few street trees by bike, then went and bought food for those in need as part of the Cranksgiving event, then attended the Weston Awards to support Oregon Walks. If anyone does all three of those things, they get my vote for Great Portlander of the Year.
And if you've hung up your cyclocross shoes for the season, take them down! Sunday's race out at Sauvie Island is an annual favorite that also has a nice convivial feeling among all the teams who have battled each other all season long.
Have fun out there…
(more…)