Thursday, April 17th, 2014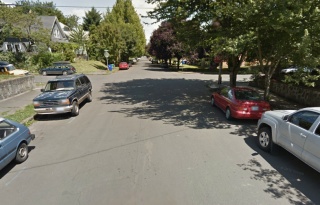 NE Rodney near Fremont.
Whenever we report on a new neighborhood greenway project, the discussion always turns to diversion. That is, how will the project promote or prevent a higher volume of driving on a street specifically set aside by the Bureau of Transportation to have "low traffic volume and speed where bicycles, pedestrians and neighbors are given priority."
Last week we shared PBOT's first swing at plans to turn NE Rodney into just that sort of street. And sure enough, many readers asked about diversion.
Reza wrote;
"Can we get some diversion please? Rodney near Russell gets a lot of car traffic from motorists going to Wonder or other nearby establishments continually circling the block for on-street parking."
Craig Harlow wrote;
"PBOT, please start installing diverters along ALL of the n'hood greenways."