Wednesday, August 26th, 2015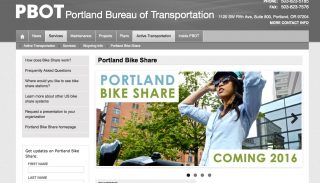 You never know. It could happen.
An unexpected comment by City Commissioner Nick Fish at the council meeting this morning has led to a confirmation from the bureau of transportation that they're planning an announcement about bike share.
Fish was making his closing comments about the neighborhood greenways report and resolution (that passed unanimously by the way) when he said something that raised more than a few eyebrows in City Hall and on social media.
"This is an outstanding report," Fish said, "I want to thank Steve (Novick, the commissioner in charge of PBOT) for all the great work." Then he mentioned a few of the initiatives Novick has championed recently like Vision Zero and Sunday Parkways. Then he added, "And bike share, which we'll soon be taking up and which I fully support."
(more…)