In news that won't surprise anyone that's been following along closely, the Portland Bureau of Transportation announced at a city council meeting yesterday that their planned bike share expansion will include electric bikes and cover more parts of the city.

"We're really excited about the electric bicycle piece of this… We think it will really make a difference."
— Steve Hoyt-McBeth, Biketown program manager
The first official confirmation of the upgrade came from Biketown Program Manager Steve Hoyt-McBeth. He was at council to ask commissioners for an extension of the city's current contract with Motivate, Inc., the company that operates the Biketown bike share system.
During his short presentation, Hoyt-McBeth said the city plans to release a request for proposals this summer that would, "Expand Biketown into new neighborhoods, and hopefully include the entire city and that will include electric bicycles." The new system isn't expected to be up and running until spring of next year (2020).
Electric motors on bike share bikes available in every corner of the city would be a game-changer. Housing prices have forced many Portlanders to live further than ever from jobs and other destinations and access to a relatively cheap, reliable, fun, efficient (no traffic!), bicycle could vastly increase the viability and the appeal of bicycling. A survey taken last year revealed that more than a third of Biketown members said they'd use the service more often if the e-bikes were available.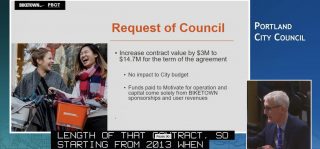 The ultimate size and geographic scope of the upcoming bike share expansion will depend in part on what vendors offer in response to the RFP. But Hoyt-McBeth made it clear in his language yesterday that expanding the system to places like east and southwest Portland with e-bikes is a foregone conclusion. "We're really excited about the electric bicycle piece of this," Hoyt-McBeth said, "We think it will really make a difference — not only for people in general in making biking and bike share more attractive to more people — but also from an equity perspective as we move this system out into east Portland and other areas… hopefully into southwest as well. And with the hills, having an electric bike will really make biking more viable for people."
If you haven't noticed, e-bikes are beginning to proliferate on Portland's bikeways. And if you've ridden one, you know first-hand how life-changing they can be. Having power-assist means people can ride further, faster, and carry more stuff without getting as tired. It opens up the idea of cycling to a much broader swath of the population and it allows existing riders to ride even more.
Portlanders got a taste of electric bike share last summer when Jump and Lime offered motorized bikes during a closure of the Portland Aerial Tram.
Last fall, Portland hosted a bike share conference where Ryan Rzepecki, the founder and CEO of Jump, a leading electric bike share company, confirmed to me he was already in talks with PBOT. In his keynote speech, Rzepecki sang the praises of "light electric mobility" and said, "Regular pedal bikes never showed the type of growth and traction as you're seeing with electric vehicles. The amount of people interested in riding e-bikes or e-scooters is much higher than folks riding a pedal bike because this is mostly about transportation and not recreation or exercise. It's about getting where you're going quickly, conveniently, without breaking a sweat. And electric mobility offers that in a way that pedal bikes don't."
Biketown's current system has 1,002 (relatively heavy and slow) non-electric bikes strewn across 147 stations. The city's contract with Motivate is set to expire on August 1st, 2019. Yesterday PBOT asked council to support an ordinance (PDF) that would extend the existing contract and allow them to increase the value of it by $3.4 million so they could continue to pay Motivate through April 30th, 2020. As per city council demands when the bike share program was established in 2013, Biketown doesn't use any public funds (beyond Hoyt-McBeth's staff time, which is paid via general transportation revenue that comes from gas taxes, parking revenue, and so on). PBOT pays Motivate for operation of the system solely through user fees and sponsorship revenue from Nike and Kaiser Permanente.
All commissioners present yesterday were strongly in favor of the ordinance and it passed 4-0 (Mayor Ted Wheeler was absent).
The only minor quibble with Biketown came from Commissioner Amanda Fritz.
Just as she did when the bike share plan was first passed in 2015, Commissioner Fritz expressed concerns that Biketown users don't have easy access to city-provided helmets. "Have we made progress on the helmet issue?" she asked Hoyt-McBeth. "We have not made progress on having something available in real-time," he replied. Hoyt-McBeth explained that a company PBOT was in discussions with to provide helmets at their kiosks went bankrupt and they have yet to see anyone else enter the market. "When we come back with the new RFP," he added, "That will be an opportunity to see if there are other solutions out there."
Commissioner Fritz also used the occasion of yesterday's meeting to remind people that riding bikes and scooters on sidewalks downtown is not allowed. "People say this is the reason we can't have nice things. If people continue to break the rules then there will be a problem and they will no longer be able to have the nice things of the bikes and the scooters; because it's all about shared space and safety."
Lest you think Commissioner Fritz is anything but a fan of Biketown, she offered Hoyt-McBeth congratulations prior to her "yes" vote. She noted there was zero controversy with Biketown and that the program has been a huge success. "I think it's definitely a good thing that it has become less controversial and has become more of a way of life."
And by next summer bike share will be an even larger part of our lives.
— Jonathan Maus: (503) 706-8804, @jonathan_maus on Twitter and jonathan@bikeportland.org
Never miss a story. Sign-up for the daily BP Headlines email.
BikePortland needs your support.