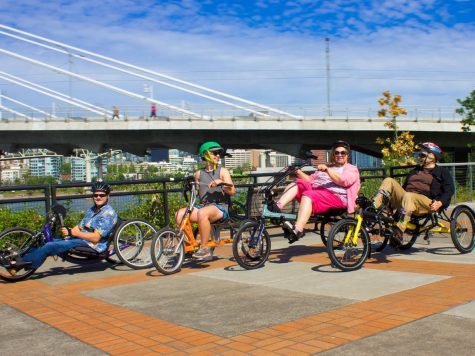 One year ago Portland was readying for the big debut of its Nike-sponsored bike share system when a thorny issue popped up: The 1,000 Biketown bikes were useless to those with disabilities and who otherwise are unable to ride a standard bicycle.
Instead of ignore the problem, PBOT put their heads down and got to work. They launched a survey to garner feedback from people with disabilities (192 people responded) and convened a task force to figure out how the program could work. The result is a new bike rental system that will be separate from — but complementary to — the Biketown system. It's set to launch next Friday July 21st.
The new program isn't fully fleshed out yet; but based on the survey and interviews with adaptive bike users, PBOT has figured out enough to launch a pilot.
The city will work with two existing shops: Kerr Bikes, a rental company; and Different Spokes, an adaptive bike specialist. Each of them have agreed to provide a selection of handcycles, trikes, and tandems to registered users for short-term rentals. Kerr has locations on the Esplanade (near OMSI) and at Salmon Street Fountain in Waterfront Park. Different Spokes is located at SE 4th and Ivon, just steps away from the entrance of the Springwater Corridor.
The location of these shops is important. 52 percent of survey respondents said they wanted to use the bikes for recreation, versus just seven percent for transportation. And 82 percent of people who took the survey said they'd prefer to use them on multi-use paths.
As part of the program the City of Portland will provide a staffed rental process and storage for the user's mobility device. PBOT and the bike shops will not be responsible for transferring people from their mobility devices to the adaptive bikes and they will not provide any emergency pick-up services. The cost of the rentals is still up-in-the-air but is expected to be around $5 to $10 an hour. While it will be operated separated from Biketown, there will be some cross-promotion and marketing.
Transportation Commissioner Dan Saltzman will be on hand July 21st to launch the pilot project. It will start at Kerr Bikes' OMSI location (1945 SE Water Ave) and will include a short ride to Different Spokes (423 SE Ivon). Everyone is welcome. For more information on Portland's Adaptive Bicycle Rental Pilot Project see the city's website and check out our calendar listing for details on the launch event.
— Jonathan Maus: (503) 706-8804, @jonathan_maus on Twitter and jonathan@bikeportland.org
BikePortland is supported by the community (that means you!). Please become a subscriber or make a donation today.