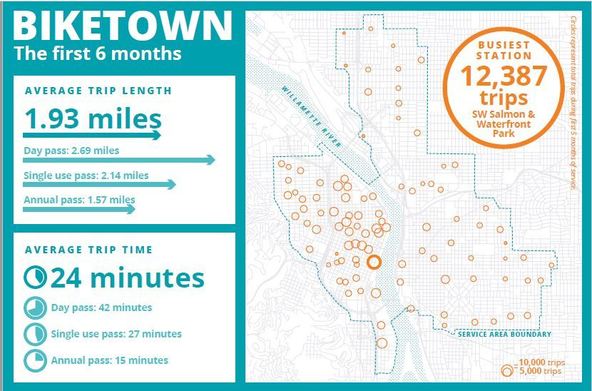 160,000 trips, 38,000 individual riders and over 312,000 miles ridden since July of last year. Those are just some of the results from a survey about the Biketown bike share system released by the Portland Bureau of Transportation this morning.
In addition to solid usage numbers, the city claims the bikes have boosted business and have helped keep cars off the roads.
Overall it's more great news for PBOT and the promises that were made for years about bike share.
Here's the full statement with more results from the survey:
In five and a half short months, the bright orange bikes of BIKETOWN have reduced automobile use, increased access to local businesses and expanded tourism opportunities. Those are some of the key findings of a survey of more than 2,400 people who have used Portland's bike share system since it launched July 19.

The survey, which included one-time users as well as annual members, found 26 percent of Portlanders using BIKETOWN said they used it instead of driving a car and 64 percent said they are biking more.
The survey shows BIKETOWN supports local businesses. Among tourists using BIKETOWN, 71 percent said they rode an orange bike to reach stores or restaurants. Also, 69 percent of local residents using BIKETOWN said they were more likely to patronize a business near the colorful orange stations.

Since the launch of BIKETOWN on July 19, there have been over 160,000 trips taken on the City's bike share system totaling 312,690 miles (the equivalent of 49 round-trip rides from Portland, Oregon to Portland, Maine).
In 2016, 38,000 people have used BIKETOWN in Portland and 3,000 of them have committed to annual memberships. The average trip length for all users is 1.57 miles and the average trip time is 24 minutes.

"We are thrilled with how quickly BIKETOWN has been embraced by Portlanders and visitors alike," Portland Transportation Director Leah Treat said. "This survey shows BIKETOWN makes it easy for people to use bikes instead of cars for short trips, reducing congestion, pollution and carbon emissions. We are incredibly proud that this new transportation option has helped increase biking in Portland while at the same time strengthening the local economy and supporting local business."

The survey, sent to all BIKETOWN users in November 2016, provided additional insight into the usage and popularity of the service. Among the survey's findings:

BIKETOWN is delivering on its promise to increase biking and reduce car trips:
– 26% of BIKETOWN trips eliminated car trips (among locals)
– 64% of resident/commuters surveyed said they're biking more
– 20% of locals reduced their car ownership or have considered it

BIKETOWN strengthens the local economy and supports local businesses
– 56% of BIKETOWN tourist riders surveyed said that bicycling opportunities were a factor in their decision to visit Portland.
– 71% of out-of-town BIKETOWN users reported using BIKETOWN to reach shopping or restaurant destinations.
– 69% of local BIKETOWN users said they were more likely to patronize a business near a BIKETOWN station.

BIKETOWN users rated BIKETOWN's system performance highly, rating all aspects of performance good or excellent.

Said survey respondent and BIKETOWN user Megan Cwiklinski, "I ride a bicycle all the time now because of the convenience of BIKETOWN. I use them everyday to and from work and just to get around in the Portland area. BIKETOWN is so easy to use and I love not having to worry about locking and storing my own bike!"

"My family moved back to Portland in August of this year after having been out of the country for 6 years. We decided to buy one car when we came back and see if we needed a second," said BIKETOWN user Erik Swanson. "I was not aware of BIKETOWN bikes before moving back, but was pleased to find stations both a block from my house and a block from my work. I have been using your bikes every day to get to and from work and to work meetings downtown, and I love it! My family does not need to purchase a second car, and biking through the city is such a nice way to start and end my day."

The most popular BIKETOWN station is SW Salmon at Waterfront Park, with a total of 12,387 trips starting or ending at the location. BIKETOWN continues to be popular even as rain and snow fall in Portland. During a recent snow event on Wednesday, December 14, five people joined BIKETOWN as new members with single ride passes, presumably as an alternate means of travel during winter weather conditions.

Looking forward, PBOT will continue to enhance its partnership with the Community Cycling Center to provide discounted memberships to Portlanders living on low incomes through its BIKETOWN for ALL program. The Community Cycling Center partners with affordable housing, social service and community organizations to connect those in need with BIKETOWN memberships, including cash membership options for those without a credit or debit card. In 2016, BIKETOWN for All members took 776 trips.

In 2017, PBOT hopes to increase both the number of trips and number of people using BIKETOWN. As a new service, BIKETOWN's usage is expected to grow as more people become familiar with this transportation option. Half of respondents said that bringing BIKETOWN to new areas would help them use the service more. PBOT and its partners will continue to review ridership demographics and to look for opportunities to encourage more Portlanders to use the bikes and bring BIKETOWN to new neighborhoods while staying a financially sustainable public service.
PBOT also released a list of its top ten rental stations. Since all of ten were on the westside (downtown), they released a separate list of the busiest stations on the eastside. Here are both lists (note that the graphic shows the stations in reverse ranking order):
The westside:

And the eastside:
— Jonathan Maus: (503) 706-8804, @jonathan_maus on Twitter and jonathan@bikeportland.org
BikePortland is supported by the community (that means you!). Please become a subscriber or make a donation today.