Wednesday, August 27th, 2014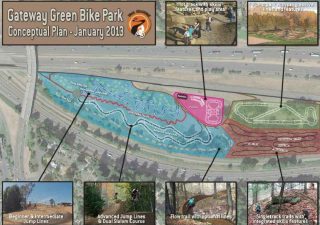 Conceptual drawing of the off-road biking plans.
A key step toward making Gateway Green a reality was taken today when Portland City Council voted unanimously to authorize a land transfer from the Oregon Department of Transportation (ODOT). Portland is now the official owner of the 25 acre property that's slated to become what Portland Parks & Recreation referred to today as an "off-road biking facility."
The City of Portland acquired the land from ODOT for $19,300, money they received from developers via System Development Charges (SDCs).
In a statement released today by PP&R, City Parks Commissioner Amanda Fritz said, (more…)