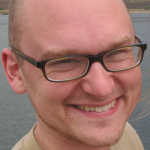 by Michael Andersen (Contributor) on July 29th, 2015 at 5:07 pm
Activists hang from the St. Johns Bridge
to block an oil ship's passage.
(Photo:
Greenpeace USA
)
Update 5:45 p.m.: Police now say that only the southeast sidewalk (upstream, closer to downtown Portland) is closed and that officers were mistaken when they previously blocked people from crossing the bridge on bike or foot.
"It was just that someone didn't get told," Portland Police Bureau spokesman Sgt. Greg Stewart said Wednesday evening. "We're just having people use the other side of the street."
An updated version of the original post follows.
Some Portland police officers ordered the sidewalks of the St. Johns bridge closed to foot and bike traffic in response to a direct action on the bridge Wednesday.
Late Wednesday, police changed their operation and closed only the southeast (upstream) sidewalk to people on foot or bike.