Posted on May 16th, 2008 at 10:48 am.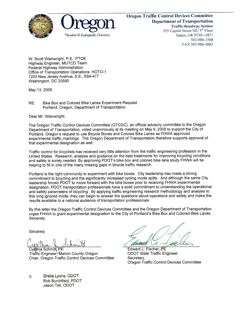 On Tuesday, the Oregon Department of Transportation (ODOT) pledged their full support for PDOT's efforts to improve bike safety by installing bike boxes at intersections.
Their support came in the form of a letter written to Scott Wainwright, a top highway engineer for the Federal Highway Administration (FHWA), who also sits on an important committee that is in the process of formerly approving PDOT's "Request to Experiment" with the bike boxes.
[more…]