Posted on January 13th, 2017 at 2:27 pm.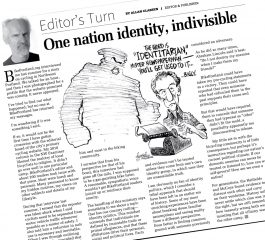 Right now in the "Drafts" folder of this blog's backend there are 303 unpublished stories. One of them is titled, "The Friday Profile: Allan Classen, the 'fearless' voice of northwest Portland."
And right now on newsstands throughout northwest Portland is the January issue of the NW Examiner, the paper that has Classen's name atop the masthead. And on page three of that issue is the monthly "Editor's Turn" column where he takes issue with BikePortland for not publishing that story.
There are a few things Classen got right in his column; but unfortunately everyone who reads it is now mostly misinformed. That's because it's based on assumptions about our editorial motives which are simply wrong.
[Read more…]