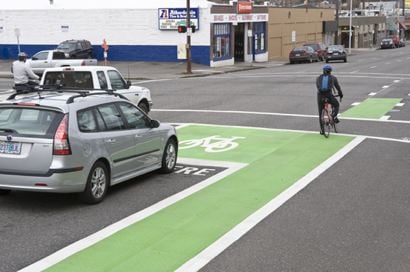 The bike box at SE Hawthorne and 7th in action.
(Photo by Jay Lawrence/
Polara Studios
)
Portland's new bike box has been in action for just about 24 hours.
From my observations, the initial performance has been very promising. The vast majority of cars stop well behind the box and I've only seen a few folks turn right on red.
KATU-TV crews spent an hour watching the intersection yesterday and found pretty much the same thing. Check out there bike box story and video that ran on the evening news last night.
Greg Raisman, who works in community traffic safety with the City of Portland Office of Transportation (PDOT), experienced it from both sides of the windshield yesterday and says, "I'm really happy with it…it's working."
More Bike Box Info:
Raisman says he felt very comfortable with it from behind a steering wheel. "I think the markings are intuitive. When you drive over it on a green, you don't notice the "Wait Here" marking, but it's very visible on a red light situation."
But it seems like, for at least one cyclist yesterday, the markings weren't so intuitive. A reader named Laszlo drove through the intersections and shared this eyewitness account:
"…As I pulled up to the intersection, there's no missing the green bike box and lane, or the two motorcycle cops across the street. There's a cyclist in the bike lane, and another in the box. It looks like someone might think they could easily fit between the bike lane and the curb for a right turn [I noticed this too. That lane is actually a parking lane so I hope folks don't get the wrong idea.]

The cyclist in the bike box is periodically signaling a left turn; there are two lanes of traffic to her left. he light turns green, the cyclist goes forward; so does the van beside her. With the van 4-5 feet behind her, the cyclist turns left across 2 lanes of traffic, almost getting hit. The cyclist pulls over on 7th, to be met by one of the cops. I'm guessing that she thought the bike box gave her special immunity."
Laszlo went on to write that he fears, at least initially, "people (both drivers and cyclists) will fail to understand how these things are supposed to work" and that she's more concerned about bike boxes when traffic is moving.
I'd love to hear more from you. Whether you ride a bike through it or drive a car through it…what are your thoughts so far?