Posted on September 11th, 2015 at 4:12 pm.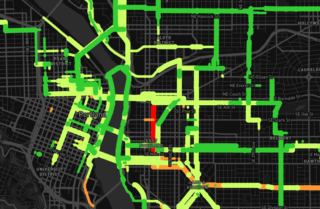 A map of more stressful and less stressful bike routes,
created by Ride Report beta testers. Knock CEO
William Henderson warns that there's not enough
data yet to draw conclusions.
(Image:
Ride Report
)
Everybody who bikes in Portland has opinions about the best and worst streets to bike on. But there's no clear way to combine those opinions into the sort of information that officials can actually use.
Enter the new mobile app that's currently available only in Portland: Ride Report.
Launched as an iPhone app this week (with an Android version in the works), Ride Report provides an extremely simple way for users to answer a single question about each bike ride they take: Thumbs up or thumbs down?
[more…]