Posted on July 9th, 2020 at 12:23 pm.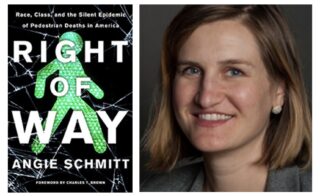 At an online meeting next week hosted by local activism group Bike Loud PDX you'll get the chance to hear from a leading expert on the connection between America's pervasive car culture and a startling rise in deaths of vulnerable road users.
Angie Schmitt's new book, Right of Way: Race, Class, and the Silent Epidemic of Pedestrian Deaths in America (Island Press), is due to come out on August 27th and has already received an excellent review from Kirkus (a big deal in the publishing world).
In the book, Schmitt breaks down the policies and products that have contributed to a 50% rise in pedestrian deaths in the last decade.[Read more…]