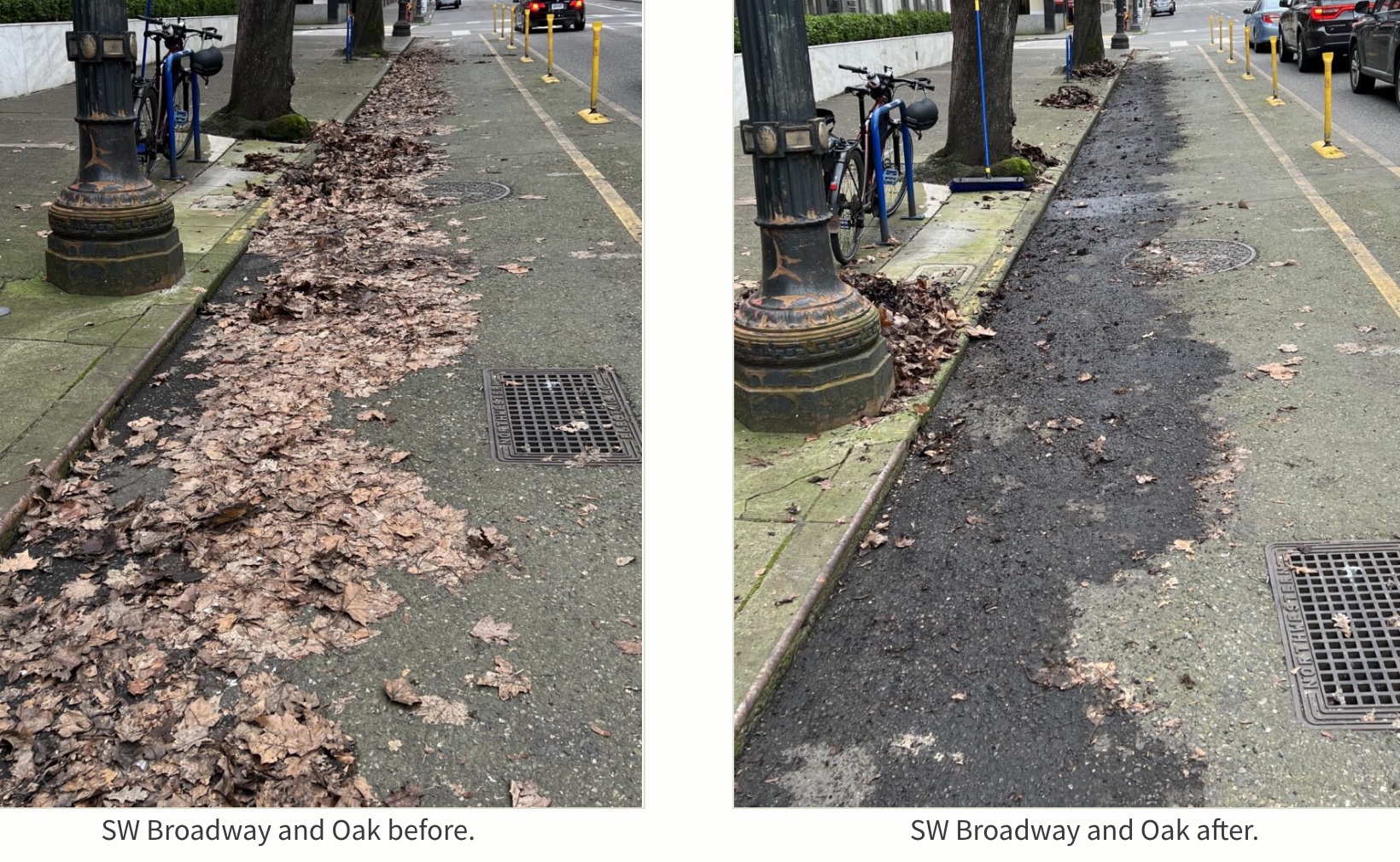 (Clearing leaves on SW Broadway and Oak.)
This time last year, it looked as if Portland's city council was about to grit its teeth and start addressing two problems that Mayor Charlie Hales rode into office pledging to fix: the twin facts that our roads are both consistently unsafe and disintegrating beneath us.
Now, as Portland's leaders get ready to file back in from vacation, all available signs point to both of those cans being kicked further down the road.
Meanwhile, as BikePortland reader Alex wrote in a comment on Tuesday, bike trips through this town keep getting bumpier.
Portland has a major backlog of street paving and maintenance. That's the main finding of a new report by the City Auditor that came out yesterday (PDF). If that doesn't sound like huge news; that's because it isn't. The maintenance backlog has been a major issue for many years. What's different this time is that City Auditor LaVonne Griffin-Valade pins the blame for the problem on poor "stewardship" of the system by Bureau of Transportation staff and City Council.
The audit is just the latest red flag raised by the Auditor's office on this issue. Since May of 2006, they've released seven audits relating to street paving and maintenance. In the audit released this week, Griffin-Valade accuses the City of, "not adequately protecting the condition of street pavement." Despite data showing the maintenance backlog only getting worse, Griffin-Valade said City Council "chose to invest in competing transportation priorities without an overall strategy."
The audit named those competing priorities specifically as funding for the Portland-Milwaukie light rail line, streetcar operations, and new sidewalks. All three of those refer to significant funding commitments made by former Mayor Sam Adams. Much to its credit, the audit never mentioned spending on "bike lanes" or "bike projects" as an example of a "competing priority."