by Kiel Johnson (Go By Bike) on April 12th, 2016 at 11:30 am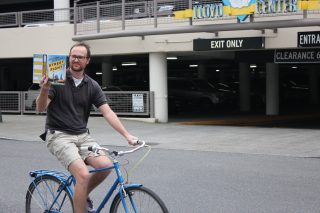 Our reviewer hard at work.
This is a guest post by Kiel Johnson.
A specter is haunting our cities — the specter of street life!
Our streets make up the vast majority of our public space in cities. How these spaces are designed have profound impacts on how we think about communities and the policies we create. Janette Sadik-Khan's "Streetfight: Handbook for an Urban Revolution" is a necessary chronicle and persuasive argument for giving street space back to people. She writes "streets are the social, political, and commercial arteries of cities … These are the spaces where life and history happen."
Last week, I presented to a group of business leaders in the Lloyd District, most of whom commute by car from the suburbs. I was talking about the Better Broadway project that will open one auto lane of Broadway up for businesses and people for one week next month.