Posted on March 13th, 2017 at 3:21 pm.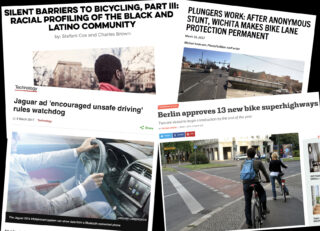 This week's Monday Roundup is sponsored by The Bike Index, the nonprofit tool and community that has recovered thousands of stolen bikes.
Here are the best stories we came across last week…
Doing it right: Former (that's important) Bicycling Magazine editor-in-chief absolutely laid into the infamous cycling "Rules" kept by Velominati.
Paying to drive fixes congestion: This NY Times column argues that all the technology in the auto world won't solve congestion. The only thing that will is making driving more expensive.
Bikeway widening: Instead of widening auto-only highways, smart cities are creating more bike-only "highways." Berlin is building bike "superhighways" hoping to mimic success of the concept from London.
[Read more…]