Yesterday I shared an update on several central city projects that we heard about at this month's PBOT Bicycle Advisory Committee meeting. Today I want to add a bit of detail and clarify what to expect on one of those projects.
In 2017 you might recall (just kidding, you probably won't) we mentioned how the City of Portland won a $2.8 million federal grant (via Metro) to fund their Central Eastside Access and Circulation Improvements project. The project slipped off our radar in part because it was categorized and funded as a freight project. Why was it considered a freight project? Because one of the big transportation issues in the Central Eastside is how best to mix the intense industrial and freight truck uses in the district with popular bike routes that feed neighborhood greenways. PBOT planners understand that it's much harder to separate these users with hard infrastructure, and much easier to do it by encouraging bike riders and truck/car drivers to take different routes — specifically routes that keep them separated as much as possible.
So their plan was to improve certain intersections in ways that would entice bike riders to use them more (with enhanced striped crossings and signals) and to make "access management" changes (reducing turning movement options for drivers) to get the desired traffic circulation outcomes.
When the plan was first conceived in 2017 (above) it included eight new signals and a complete repaving of SE Clay from Water Ave to Grand. Using a mix of local and federal funding the project had an estimated coast of $5.4 million (repaving Clay was a win-win for PBOT because Clay is an important street for both the freight and the bike network). However, due to cost and other issues, the project has been winnowed down to upgrades and new signals at three intersections and it does not appear that the Clay repaving is going forward.
It's pretty common for PBOT projects to change, especially ones that use federal funds (which have a lot of strings attached) and take several years to materialize. Budgets and plans change all the time; but the community deserves to know why certain elements fall off the table and what we can expect going forward. Here's what I've been able to find out so far…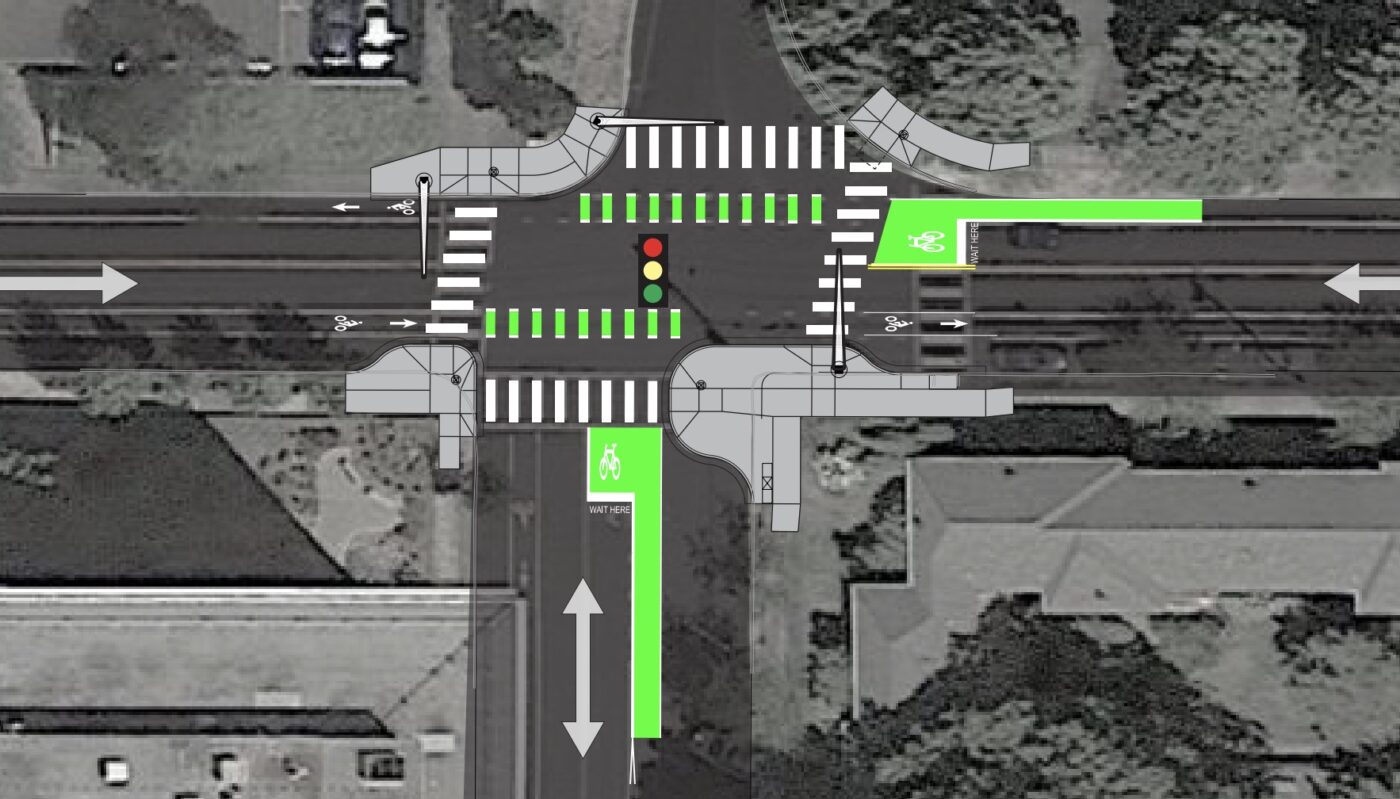 By the time PBOT made an official webpage for this project in August 2021, the Clay repaving and three of the eight signals included in 2017 — at Ankeny and Martin Luther King Jr. Blvd, SE Washington and MLK, and the Hawthorne Bridge eastbound offramp to MLK — were left off the project scope description.
PBOT says the work on Clay was dependent on tax revenue from the city's Heavy Vehicle Use Tax (HVUT) but those funds were redirected to another project.
Then in March of this year, PBOT updated the project website to say two more planned signal and intersection changes were also dropped: "Note: Due to dramatic construction and material cost increases, the intersection improvements that were originally planned at SE Grand and Washington and NE 16th and Irving as part of this project have been postponed." (I assume the Ankeny signal was switched over to the E Burnside bus lane project.) This is a direct result of massive inflation and PBOT says they could not justify paying the 50% cost increase.
As for the signal planned for the Hawthorne Bridge/MLK on-ramp? PBOT says it just doesn't have funding at the moment. The good news is that PBOT is working with Multnomah County who plans to repave the viaduct and we are likely to see some design changes to the bikeway at this location that will improve safety.
So what exactly is planned for this project now?
As we reported yesterday, three new signals and intersection updates (that include enhanced crossings, ADA curb ramps, bike lanes, and new signage) are coming to: SE Sandy at 11th and Ankeny; and SE Salmon at Grand and MLK. And now (thanks to eagle-eyed reader Joe P!) we have seen the latest designs:
SE Ankeny at 11th/Sandy
As you can see, this is much more than just a new signal. PBOT will make significant changes to this intersection that include new medians and diverters, new green bike lanes and bike box striping, and changes to driver turning movements. The signal will have a bike-only phase so all other traffic will stop while bicycle riders cross.
SE Salmon at MLK and Grand
In addition to the new signals to help improve crossing safety, you'll note that PBOT plans to add some median islands and short bike lane sections to help protect riders from other traffic and to limit driver turning movements.
---
Hope this helps clarifies what's going on. For updates check out the PBOT project page. Let me know if you have any questions and I'll try to get them answered. Construction is scheduled to begin on these three intersections next month and last at least a year.