In the past week I've heard about two incidents that illustrate an often overlooked reason why we need more dedicated, protected bikeways in the central city.
"Then [the streetcar] got very close to me and was continuously honking and I realized it was directed at me."
— Nate M.
For years, Portland bicycle riders have been forced to share the same roads with car, truck and transit operators. PBOT has timed the signals for around 12 mph, which keeps most people in check. But the shared environment only attracts a tiny percentage of people. To move the needle for ridership, we must give people a more comfortable place to ride. We recently passed a detailed blueprint, the Central City in Motion Plan, that should hasten development the protected network we desperately need. Now we need to implement it.
So far this year two people have been killed on central city streets where safety projects are already planned but have yet to be built.
In the past few days, readers have contacted me about two incidents where a transit operator behaved in an unsafe and rude manner toward a bicycle operator. In both cases, the bicycle user was left scared and confused. And in both cases, if the bicycle users had dedicated space to ride — or if there was a better route option nearby — they could have avoided the situation.
Below are the first-person accounts of what happened…
From reader Nate M.:
"Yesterday I left work on my bike getting in the lane of NW 10th Avenue (north of Burnside) in the middle of the tracks in front of no traffic as I have to turn right eventually on Hoyt. I cycle here as I do not want to cross the tracks multiple times in the 6 blocks I commute on 10th… The streetcar was picking up people at the Couch stop. The lane was clear so I got back on my bike clear of no traffic. The Streetcar was approaching behind me and was directly behind at the red traffic signal at NW 10th and Davis. I then proceeded to go at the green light and then the Street Car honked its horn. I was not sure what it was at. Then it got very close to me and was continuously honking and I realized it was directed at me, this was when I decided to go over the tracks left into the lane.

Nate might have opted for these planned protected bike lanes in the nearby Park Blocks.

I had no idea why I was being honked at and directed to move left by the streetcar? This is dangerous for me as a cyclist crossing the tracks in the first place. I was forced to move left, the streetcar drove by me… So after going left, I had to wait for traffic to go by to go right over the the tracks again for me to turn right on Hoyt. I was just confused and the streetcar added danger to my ride.
Nate figured he was doing something illegal by riding in the streetcar track lane. He wasn't. Bicycle users are allowed to ride in streetcar lanes. He reported the incident to Portland Streetcar and they are following up with the driver.
There's no project on NW 10th in the CCIM plan, but there is a project (#16) a few streets over that would create a protected bike lane couplet on NW Park and 8th. That might become Nate's preferred route… if it ever gets built.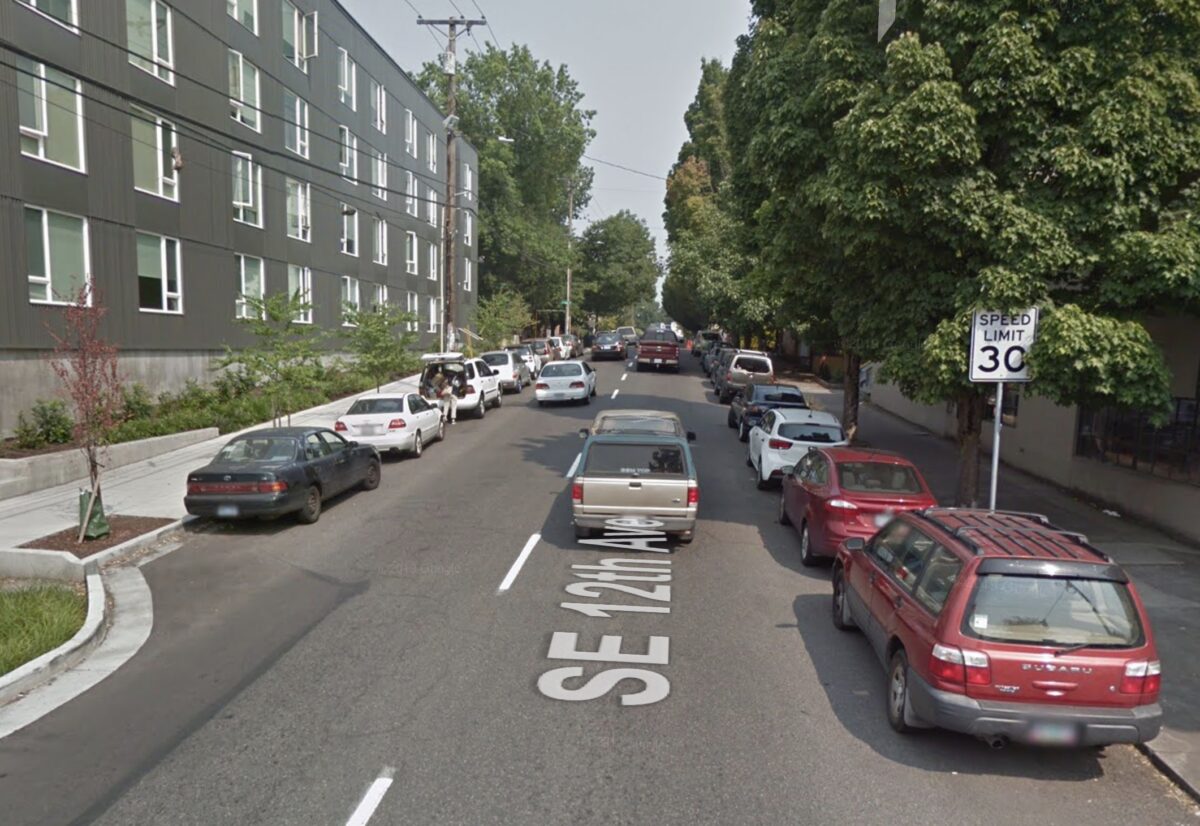 The next case came in today from Jessica S. She witnessed a scary situation involving a bike rider and bus operator on SE 12th between Stark and Ash:

"A bike was traveling north in the right lane (there is no bike lane or extra space, so the cyclist was in the middle of the lane). The bus passed unsafely. Instead of occupying the whole left lane that was available to the bus, the bus only moved half way into the left lane, keeping the other half of the bus in the right lane. This means the bus was dangerously close to the cyclist as it passed. The bus then moved back into the right lane after barely passing the cyclist, keeping an unsafely close proximity to the cyclist.

The bus driver honked during this unnecessary and dangerous move, both startling the cyclist, leaving this cyclist to wonder if the driving thinks they are right in with this dangerous behavior."
Jessica is worried about this bus operator's behavior and has filed a report with TriMet.
On 12th Avenue, just like on 10th, there is no dedicated space for cycling. Thankfully, CCIM project #4 will change that. PBOT wants to reconfigure the existing roadway on 12th and create a wide, dedicated lane for bicycle users. If that design were in place today, this dangerous interaction would not have happened. Unfortunately, the is on the 6-10 year implementation list.
In the meantime, we can't just hope that all transit operators will drive safely and with respect for others 100% of the time.
Incidents like these happen with much more frequency than most people realize. They are one reason why many people will never dare to try bicycling in Portland. If we want to reach our climate/planning/bicycling/vision zero goals, we must give people their own place to ride. And plans on shelves is not enough. We need to move more quickly and re-design our streets in a way that prevents these kind of interactions from happening in the first place.
— Jonathan Maus: (503) 706-8804, @jonathan_maus on Twitter and jonathan@bikeportland.org
Never miss a story. Sign-up for the daily BP Headlines email.
BikePortland needs your support.