The SW Corridor Project has reached a major milestone with the release this week of its Draft Environmental Impact Statement — a required step for the estimated $2.8 billion, 12-mile TriMet MAX light rail project to receive federal funding.
The plan has been seven years in the making and once complete (possibly around 2027), the new line would go from downtown Portland's transit mall to Tualatin via Tigard. As proposed, the route would go along Barbur Boulevard until the Barbur Transit Center (at SW Capitol Highway) and then cross over I-5 on a new bridge that would run southwest along the freeway to Tigard before crossing Highway 217 and heading south to Bridgeport.
When the Portland region has built previous light rail lines, new bike lanes followed. The Yellow Line up Interstate got us new (albeit crappy and narrow) bike lanes, and the Orange Line came with an unprecedented investment in bikeways. Throughout planning for the SW Corridor, active transportation advocates have watched closely and sat on advisory committees to make sure the project would result in not just a new high-capacity transit line; but high-capacity bikeways as well.

There's been hope for years that this project would finally bring relief to the white-knuckle riding conditions on Barbur Blvd north of downtown Portland. The road in the "Barbur Woods" section has four standard lanes and no shoulder or bike lane over two closely-spaced trestle bridges. The bike lane gaps force riders into a shared lane where people often drive 50 mph or more.
To deal with this issue it looks like Metro has chosen to simply avoid it. A "refinement" made to the proposal would move the alignment to the east side of Barbur Boulevard for about a mile in the woods section on a new, aerial structure. In the DEIS, Metro says the decision to leave Barbur at this location was done to save money, gain "constructability advantages" (the old bridges won't support the weight of MAX trains) and to avoid replacing the trestle bridges, which are likely to trigger historic structure requirements.
This means the Vermont and Newbury bridges won't get improved with this project. What about the new aerial bridge TriMet would build? NOTE: We've deleted a previous reference to a SW Portland Post article.
Here's what Metro Planner Matt Bihn shared with us:
"To clarify, options for light rail in the Woods include replacing the viaducts, or skirting them to the east with a separate light rail facility. In either case, there will be bike and pedestrian improvements, but the location has not been decided. They could be on the replaced viaducts, on a light rail structure, or on a separate bike/pedestrian facility. Details will be worked out in final design.

The SW Portland Post article that BikePortland referenced focused solely the discussion of the option of skirting the viaducts and incorrectly inferred that bike/pedestrian facilities would not be included."
As for other sections of the project, the DEIS included some before/after visuals (below) that give us a hint of what's in store in terms of bike facilities:
➤ Barbur Woods

---
➤ Barbur Transit Center

---
➤ Beveland
---
➤ Scoffins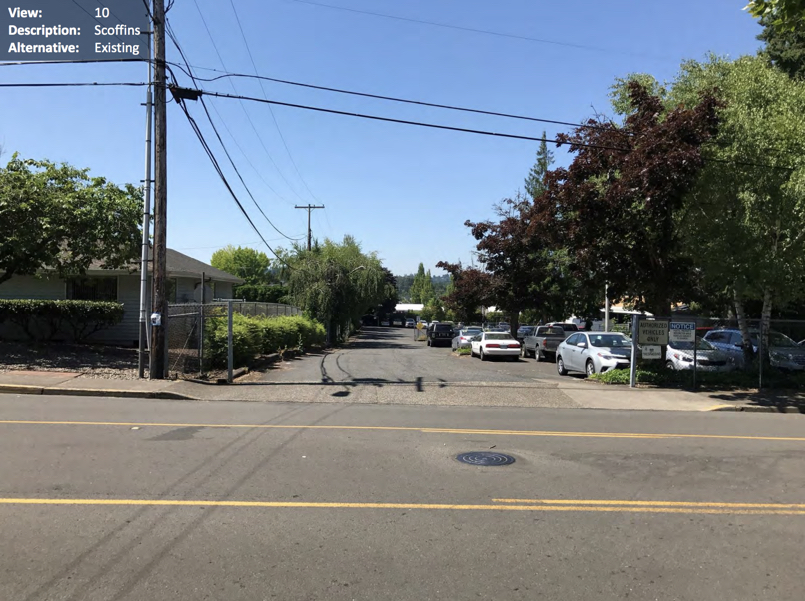 ---
➤ 53rd Avenue
As you can see, these bikeways look rather underwhelming.
A 45-day comment period has been opened on the DEIS and Metro is hosting a series of open houses and info sessions so you can learn more about it and give informed feedback. The next open house is Tuesday June 26th at Markham Elementary School from 6:00 to 8:00 pm (more info here).
CORRECTION: Please note that this post originally cited a SW Portland Post article that misquoted a Metro planner. That quote, which we also ran, said there would not be a bike path along with a potential new light rail bridge around the Newbury and Vermont bridges. We regret the confusion. Please keep in mind that the DEIS represents a very early look at the project's alignment and overall footprint — specific design details are yet to be decided.
— Jonathan Maus: (503) 706-8804, @jonathan_maus on Twitter and jonathan@bikeportland.org
Never miss a story. Sign-up for the daily BP Headlines email.
BikePortland needs your support.