Posted by Michael Andersen (Contributor) on March 20th, 2014 at 10:15 am
Cables on the west tower of TriMet's new car-free bridge over the Willamette River.
(Photo by TriMet.)
The 7.3-mile light rail line opening next year through the South Waterfront, Southeast Portland and downtown Milwaukie will, of course, build a new car-free bridge across the Willamette, the biggest such crossing in the country.
But even if you don't count the full $135 million bridge, the Portland-Milwaukie Light Rail project will also include more than $40 million in bicycling and walking facilities on nearby streets.
For comparison: in 2008, the city estimated the value of its entire bikeway network at $60 million.
"It's likely that this investment is the largest in the U.S. related to a light rail project," estimates TriMet spokeswoman Mary Fetsch.
"I've never heard anything comparable," agrees Roger Geller, Portland's bicycle planning coordinator. "This is going to change travel patterns in a really big way."
As residents of Southeast Portland's Brooklyn neighborhood are already seeing, the new bike connections will dramatically improve routes in and out of that area, which for decades has been sliced off from the city by Powell Boulevard, Milwaukie Avenue and Union Pacific's rail line. All three are getting new bike-friendly crossings, and 17th Avenue will get buffered bicycle lanes in addition to its new rail line.
The inner Division Street area, where large amounts of bike traffic will be crossing the UPRR tracks, has already been changing. A two-block stretch of Caruthers Street will add the region's first advisory bike lanes.
At each side of the bridge, connections to the bike routes there will create a new 4-mile biking loop across the river in addition to the 2.9-mile loop created today by the Steel and Hawthorne bridges.
On the west side of the new bridge, bike connections with Southwest Portland will improve, too, thanks to a new contraflow protected bike lane at SW 5th and Lincoln, that creates a new connection between the South Auditorium area to Barbur Boulevard.
The bike improvements don't stop at Portland's city limits. In Milwaukie, the project landed an Oregon Department of Transportation grant to add a multi-use path on the Kellogg Lake Bridge, "removing a long-standing barrier for both bicyclists and pedestrians on and south of McLoughlin Boulevard to more safely and quickly access the south end of downtown Milwaukie," Fetsch notes.
If Geller had had his way, the effect would have been bigger still. He unsuccessfully lobbied ODOT for permission to build a dedicated bikeway along SE McLoughlin Boulevard. But Geller said the Oregon Department of Transportation, which owns the road, wouldn't allow one there in case it wanted to widen the road someday to add auto capacity.
In addition, the project will add 445 new bike parking spaces, including two 70-unit secure bike-and-ride facilities at the new SE Tacoma Street/Johnson Creek and SE Park Avenue stations, both of which connect to regional multi-use paths. Here's the tally: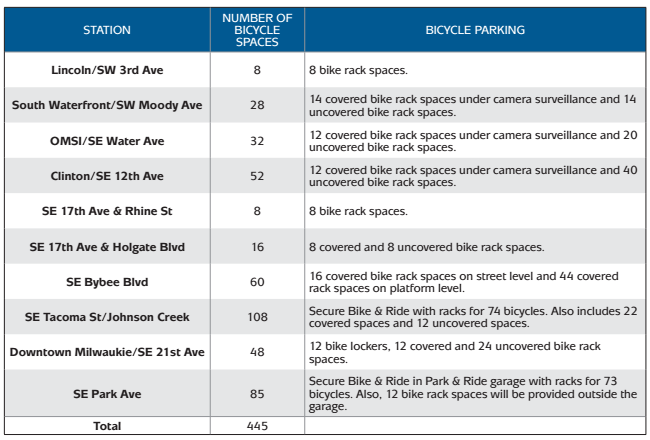 Most of the improvements shown on these maps will be physically in place by the end of 2014. Some, like the new 17th Avenue viaduct over Powell, are already open and in use; with others, Fetsch said, "we will be looking to see if some of the bike/ped improvements can be opened in advance" of the rail line operations in September 2015.
She said she doesn't expect the most important new connection, the bridge, to be open to biking and walking until the rail line opens in fall 2015.
All these improvements are the result of five years' consultation with the city's bicycle and pedestrian advisory committees, starting in 2007, and much coordination among planners and engineers at TriMet, the Portland Bureau of Transportation and ODOT.
Jeff Owen, TriMet's active transportation planner, said he's eager for Portlanders to start enjoying a vastly improved set of bike connections just south of the city center.
"This is really the exciting part," he said. "They can see the large bridge. What they have no idea is that there are miles of bike and ped facilities that are being built as part of this project."
Owen said the bike improvements will increase the value of the rail line by making it easy for people to reach its stations and all the new buildings that TriMet and the city expect will rise nearby.
"It wasn't someone's mandate," Owen said. "Nobody told us we had to. But I think the project was a catalyst for thinking differently about how the connectivity to the stations could be improved."
Correction 12:50 pm: A previous version of this post slightly misstated the number of new bike parking spots and the cost of the new bridge.
Michael Andersen was news editor of BikePortland.org from 2013 to 2016 and still pops up occasionally.