North Portland's streets continue to evolve as a combination of neighborhood demands, City of Portland paving projects, and opportunistic activism are coming together to make significant changes to bikeways.

With the new bike lanes on Greeley near Adidas and the North Willamette Blvd bluff striped late last year; and a major parking-protected bikeway project underway on North Rosa Parks, the Portland Bureau of Transportation is just about to take the final wrapping off a new median island on North Greeley Avenue.
The median is at Willamette Blvd, a major bikeway that begins west of Interstate Avenue. It stretches many yards beyond the intersection to provide a safer crossing not just for bicycle users but for sidewalks users as well. As a traffic diverter, the median makes some turning movements from Greeley impossible (southbound Greeley to eastbound Willamette and northbound Greeley to westbound Willamette). The North American headquarters for Adidas is just a few blocks away and fast-growing neighborhoods in all directions have turned this once quiet corridor into a busy thoroughfare during the morning and evening peak hours.
As we've been reporting, there's growing interest from local residents to defend their streets against abusive drivers and create neighborhoods that are more pleasant for walkers and bikers.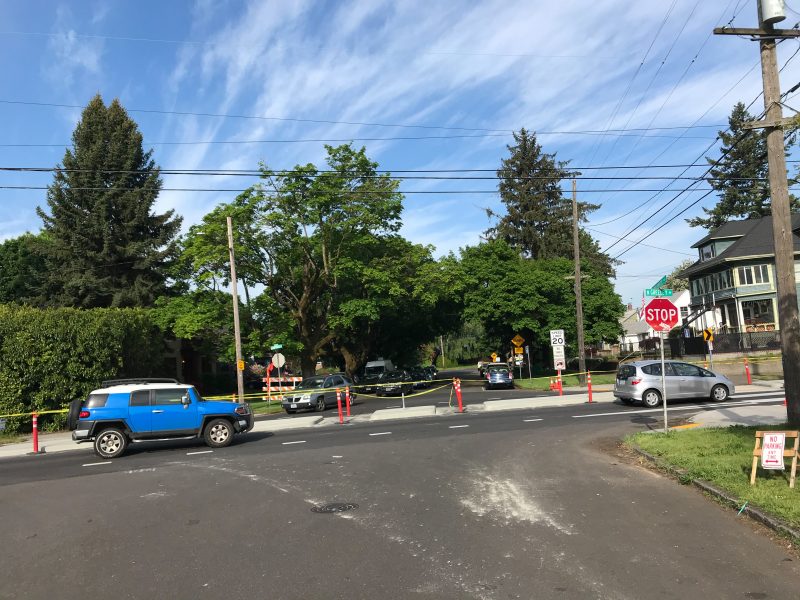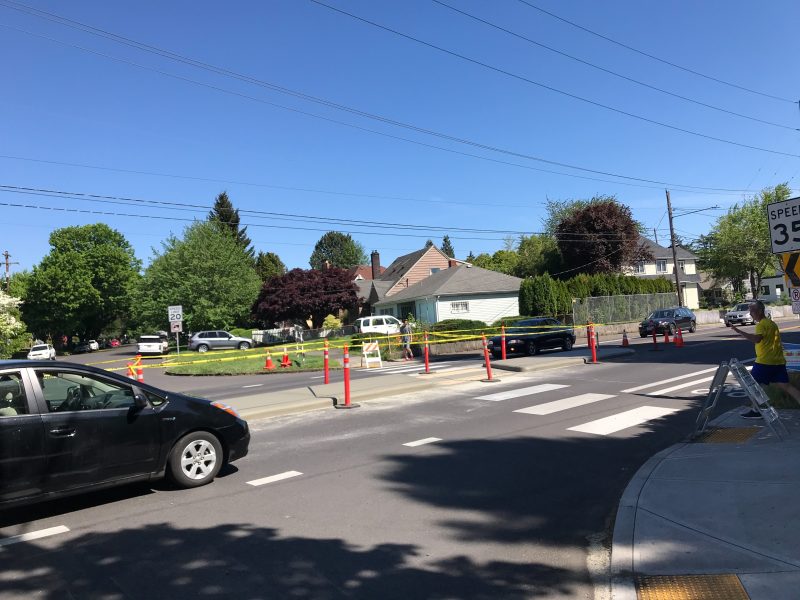 There's also been initial talks to establish Willamette Blvd as an official neighborhood greenway; but according to PBOT, this new median isn't part of any larger project. The estimated $12,000 project originated from a request into the City's 823-SAFE hotline that was made last year.
I got a closer at the new median this morning. It looks like a relatively standard design that should have the desired effect of decreasing driving speeds by narrowing the available roadway space, and increasing safety by providing a refuge for people trying to cross.
So far reaction from our readers has been mostly good, but one person is concerned that the new median impedes their turning movements. "What are people to do coming [northbound] up the hill? We are SOL [s*** out of luck] with this design," wrote @pdxblake on Twitter.
University Park resident Stephanie Turner loves it. "I am PSYCHED about this," she wrote. "It will have a major change re how I interact with this intersection. After years of calling about the hazards regarding this intersection I witnessed cars slowing down from 45 to 35 and I'll take it 🔥"
We'll take another look after it's finished to see how it all shakes out. In the meantime, let us know what you think.
— Jonathan Maus: (503) 706-8804, @jonathan_maus on Twitter and jonathan@bikeportland.org
Never miss a story. Sign-up for the daily BP Headlines email.
BikePortland needs your support.
If you have questions or feedback about this site or my work, feel free to contact me at @jonathan_maus on Twitter, via email at maus.jonathan@gmail.com, or phone/text at 503-706-8804. Also, if you read and appreciate this site, please become a supporter.