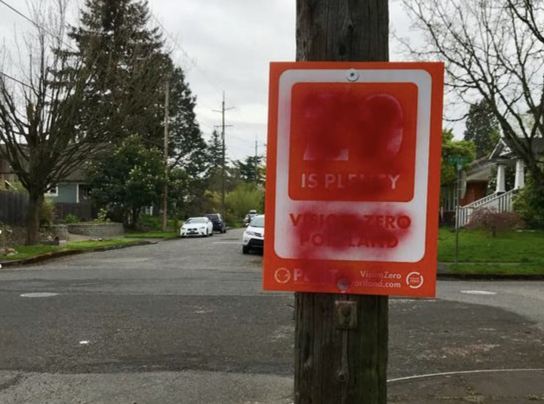 Simmering tensions about dangerous drivers who cut-through north Portland's Arbor Lodge neighborhood have reached a new level.
According to a post and photo on Nextdoor, someone defaced around 40 of those orange, "20 is Plenty – Vision Zero Portland" signs on Saturday night.
Here's the original post:
Has an anti "20 is plenty" backlash begun?

Last night somebody removed or spray painted over all the "20 is plenty" signs from Villard and Rosa Parks through Willamette and Greeley. That was probably about 40 signs.

Who are these midnight marauders?

What are their demands?

Are they the beginnings of some sort of "pro cut-through" resistance group?

All of us living on these residential side streets, especially the small children, seniors, and those with pets are ready to hear you out.
The Portland Bureau of Transportation has been handing out the signs for over two months now at numerous events throughout the city. They are part of an effort to change the culture around speeding.
The response to the free signs has been so positive that PBOT is now limits how many people can take. I've seen residents in neighborhoods from Lents to Linnton blanket their yards and streets in an effort to get people to slow down.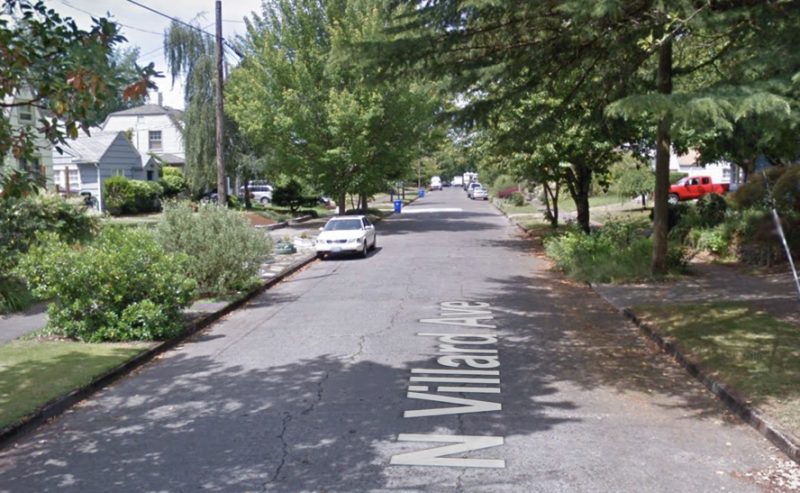 In Arbor Lodge, North Villard Avenue is a flashpoint in the battle against cut-through commuters. The north-south street is very popular for people trying to avoid traffic on Greeley and I-5. According to Nextdoor post, signs were vandalized along the entire cut-through route.
Back in October, I attended a meeting of Arbor Lodge residents who came together with their neighbors in Overlook to coordinate efforts at improving street safety. Cut-through traffic was the hottest topic and Villard Ave. was the most often cited location of speedy short-cutters.
Residents and activists want the City to install median and diversion measures to keep drivers out of their neighborhoods. This act of vandalism will likely only strengthen their resolve.
Here are some of the responses to the Nextdoor post:
The incessant reckless speeding in Arbor Lodge is mind boggling considering the amount of children and families on the streets here. PBOT, BDS & Portland PD don't seem to mind mind the fact that people cruise well over the 30mph limit on Greeley, Rosa Parks and Willamette. These are residential streets as well that need speed mitigation. Unfortunately It'll probably take more pedestrian deaths to get attention, if at all.
Perhaps it is an unhappy resident who have already had to give up their parking space close to home, and now this. Sometimes we get knee jerk reactions instead of real action and this is their way of showing anger. Hopefully, whoever did this will think twice the next time, as the sign is there for a purpose and it is to protect our babies, families and pets.
It wasn't me, but I bet most of the people that put those signs in the yard go more than 20 mph. I have consciously tried driving around N Portland going 20 mph and it is too slow. I'm not driving like a maniac, but I don't see why 25 is such a big deal.
For the past few years, PBOT has slowly but surely ratcheted up their war on speeding. It's essential work. And the fact that someone reacts to it like this, shows that it's having the desired response. That is, we can't expect significant culture change to happen without some people getting uncomfortable.
— Jonathan Maus: (503) 706-8804, @jonathan_maus on Twitter and jonathan@bikeportland.org
Never miss a story. Sign-up for the daily BP Headlines email.
BikePortland needs your support.