Something's happening in north Portland. And it will have a profound impact on street safety for years to come.
People in all 11 neighborhoods that make up our city's northern peninsula are sick and tired of living next to unsafe streets. And they're coming together to do something about it.
Last night about 60 people crowded shoulder-to-shoulder inside Madrona Hill Cafe on the corner of Ainsworth and Greeley for a "traffic safety open house". The meeting came five days after 50 people donned raincoats and rallied for safer streets at an unrelated event in St. Johns.
At the open house last night there were babies and kids and senior citizens and young professionals. And everyone had a story to tell. By the end of the night there were well over 100 post-it notes stuck to two large maps where people had written things like, "dog hit" "car hit" and "son cannot cross street w/ bike in the morning". The event came after months of planning from a nascent group of volunteers from the Arbor Lodge and Overlook neighborhoods who are focused on traffic safety issues.
"Our goal is to get attention from the city."
— Chris Jones, Arbor Lodge resident
Many of the leaders of the group first joined forces a year ago following a spate of fatal and serious injury collisions on nearby streets. With the pain from tragic collisions that took lives and forever altered others still fresh in their hearts, and armed with new complaints about increasing — and increasingly dangerous — auto use on many streets in the neighborhood, leaders like Katy Asher and Chris Jones want to have a larger and more powerful voice in City Hall.
"Everyone should feel safe using the roads," Jones said, holding his baby in his arms, "Our goal is to get attention from the city."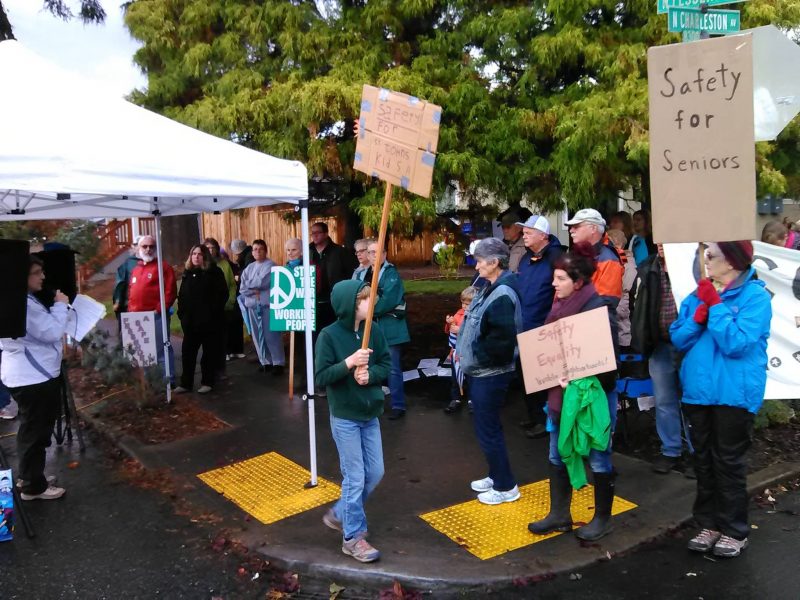 Last night's event was held to gather feedback about traffic hot-spots and danger zones. It was also a chance to build a network of advocates to fix them. "Raise your hand if you're interested in a longer-term commitment to represent north Portland on various city advisory committees," Asher asked the crowd (several hands went up). Asher used last night as an opportunity to encourage her neighbors to take advantage of tools already available: free "Slow Down" yard signs from PBOT, the City's 823-SAFE livability hotline, block party permits, intersection paintings, and so on.
Like so many other Portland neighborhoods, Arbor Lodge is dealing with the negative impacts of a startling rise in auto use. As population and congestion have grown, what used to be quiet neighborhood streets — like Villard, which came up a lot last night — are now popular cut-throughs used by drivers to save a few minutes on their commute. And streets that aren't cut-throughs, like Greeley, Interstate, and Rosa Parks, are often so backed up that it's hard to find a gap to cross safely.
This gathering was just one of several efforts happening simultaneously in north Portland. Last Friday about 50 St. Johns residents held a traffic safety rally on N Fessenden. They held signs, spoke into a megaphone, and stood in the street to make their voices heard. And as we shared this morning, another group is working to make North Willamette Blvd safer.
While it's good to see these efforts take root, it would be even better if all these activists knew each other, pooled resources, and worked toward common goals.
Unlike other quadrants, north Portland lacks a go-to group for transportation-related issues. What if north Portland had a group that could stoke as much fear and respect in City Hall and PBOT as Southeast Uplift, SW Trails, the Central Eastside Industrial Council, or the East Portland Action Plan?
It all comes down to people showing up, working together, and getting loud. And I'm happy to see that north Portland is well on its way.
"We hope you'll stay involved and make change happen," Katy Asher said at the event last night. "Look around. We're on to something."
If you want to be a part of this effort, check out the Arbor Lodge Neighborhood Association website and stay tuned to the BP front page.
— Jonathan Maus: (503) 706-8804, @jonathan_maus on Twitter and jonathan@bikeportland.org
Never miss a story. Sign-up for the daily BP Headlines email.
BikePortland needs your support.