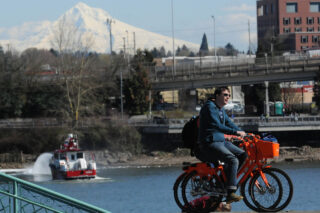 The City of Portland has launched a novel promotion to boost Biketown ridership next month: It's completely free.
To celebrate National Bike Month, the bureau of transportation announced today that new and existing Biketown riders can use the bright orange bikes for up to 90 minutes without being charged. Annual members who've already paid will get a promo code worth $12 (the monthly price). Better yet, the free promotion extends to the system's Adaptive Biketown program, and the Biketown for All program, which offers disounted memberships to people living on low-incomes.
But wait! There's more! During the month of May, the entire Biketown service area will become a "super hub zone." That is, you'll be able to park the bikes anywhere without incurring a fee. This aspect of the promotion is also a way for the City of Portland to highlight the dockless capabilities of the system — at a moment when they're feeling pressure from private firms who want to release dockless scooters and bikes in Portland.

To take advantage of the free rides, just sign up through the Biketown website, mobile app or at a station kiosk and select the "Single Ride" plan. Current annual members can log in to their account, choose "Memberships" and apply the "BIKEMONTH18" promo code to their existing account.
If you're waiting for an adaptive bike, the 2018 season starts on May 1st.
This morning's announcement comes after PBOT released a Biketown system data dashboard. We're still crunching numbers, but so far they look positive. Since it launched in July 2016, people have taken over 520,000 trips. To put that into context, over the 632 days since launch, each bike has gotten 0.8 rides per day. That's not a great number relative to other bike share systems. Seattle's failed Pronto bikes maxed out at 0.6 trips per day and CitiBikes in New York City get around 3.6 trips per bike per day. The national average is about 2 trips per bike per day.
The good news about Biketown is the numbers are trending upward. Over the past 365 days, the trips per bike per day has grown by 4 percent to 0.91. And the year-to-date trip numbers are up 10 percent over last year.
It will be interesting to see how this promotion impacts Biketown usage. May is also the start of The Street Trust's Bike Commute Challenge and the beginning of Better Naito season on the Waterfront. Bring on the bikes! Orange and all!
— Jonathan Maus: (503) 706-8804, @jonathan_maus on Twitter and jonathan@bikeportland.org
Never miss a story. Sign-up for the daily BP Headlines email.
BikePortland needs your support.