The Nevada Street entrance to Willamette Park was abruptly closed last week. This path is listed as a recommended bikeway and featured in popular maps produced by both the City of Portland and Metro. The decision by the Portland Parks & Recreation bureau to erect a black, chain-link fence was made without any public warning and it stems from a multi-year jurisidictional negotiation between the Oregon Department of Transportation and the City of Portland that spans more than three years.

"We had no realistic alternative other than to install it."
— Mark Ross, Portland Parks and Recreation
When we first heard about the fence on Monday we were told by Parks that it was erected by ODOT. But ODOT denied it. Then it became clear that the Parks media relations office had a miscommunication with a staffer and Parks did indeed erect the fence; but only after ODOT threatened to fully close the entrance if it didn't go up.
The new fence is just east of the Willamette Shore Railway railroad tracks (which you can see in the photos). It has poles buried into the ground and spans a few feet beyond the paved path. It's wide enough to make you stop and take notice, yet narrow enough to walk (or bike) around it. In an official statement, Parks refers to it as a "temporary" fence.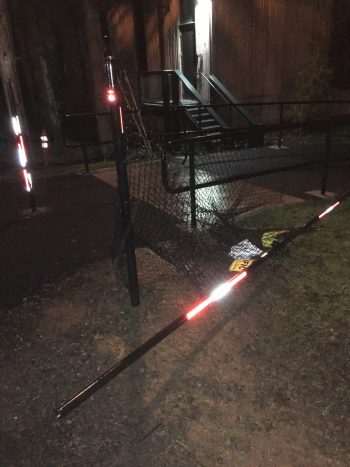 And as of last night, the fence has been removed. This time no agency is to blame. It appears a vandal loosened the bolts and tore it down.
In trying to figure out what the heck is going on, I've learned a few things that might shed light on why this happened and what to expect going forward.
First, ODOT is involved because their Rail and Public Transit Division regulates (either completely or partially) every one of the over 4,000 at-grade rail crossings in the state (this three-page PDF explains more about their role). This particular crossing has been on the radar of the City of Portland and ODOT for over three years. That's about the time when the Portland Water Bureau began to eye a project to build a new pump station in Willamette Park just a few yards away from the Nevada Street entrance. The need for crossing improvements that led to this kerfuffle are tied to that pump station project.
Unfortunately for Parks, they've gotten the brunt of the negative PR fallout from all this because they manage the path and entrance that had been closed (the miscommunication between Parks' media office and a project manager that led to their initial assertion that ODOT erected the fence hasn't helped them either).
Mark Ross, public information officer for the Parks Bureau shared with us today that, "The way the fence came to be was an anomaly and very unfortunate. We prioritize safety, and will of course work to ensure that a similar situation does not occur in the future."
In case it wasn't obviously already, a big reason for this mess is because there are so many cooks in the kitchen. That is to say, it's the perfect storm of jurisdictional red tape. We've got Parks in charge of the path and entrance, the Water Bureau in charge of the pump station, the Metro-run Willamette Shore Railway watching over the tracks, the Portland Bureau of Transportation in charge of the sidewalk and street west of the tracks (but the improvements are the Water Bureau's responsibility because of the pump station project), and ODOT Rail who regulates the crossing.
Once the Water Bureau flagged this crossing for improvement, ODOT began to look at it more closely. According to a response from a Parks employee to a citizen complaint filed on PDXParkscan on September 8th of 2017, the path was ordered to be closed by ODOT, "citing safety concerns about the… crossing." We've since learned that ODOT ordered the closure as far back as last summer.
The City first complied with ODOT's concerns by placing a-frame barricades at the entrance. But those were routinely ignored and moved aside by park users and as ODOT worried about safety and liability, they strongly urged Parks to erect a fence. If Parks didn't, ODOT said they'd close the Nevada Street entrance permanently and order the path that feeds into it removed. "We had no realistic alternative other than to install it," Parks' Ross said.
Now, what will it take to re-open the path?
When a local entity (county, city, etc…) wants to modify an existing at-grade railroad crossing, they must apply for a Crossing Order through ODOT's Rail and Public Transit division. ODOT defines Crossing Orders as, "laws that not only specify what is to be constructed at a crossing, but they may also close crossings, suspend operations of railroads or road authorities, levy fines, authorize investigations, and authorize changes to Oregon Administrative Rules." 
That process from application to granting of an order usually takes about three months.
According to ODOT public affairs, the Portland Water Bureau just applied for a Crossing Order in the first week of January 2018. Asked why they hadn't applied until now, Parks Bureau PIO Mark Ross said the agencies have been meeting and discussing the crossing upgrade requirements for over three years now.
Shelley Snow with ODOT Public Affairs told me in an interview yesterday that ODOT had a meeting last week to discuss the application. It was in that meeting that ODOT, Snow says, "strongly encouraged" Parks to install the fence. Snow also shared that the Water Bureau's Crossing Order application "needs some work." She described the scope of improvements the City must make in order to receive ODOT's blessing as, "pretty large." Sidewalks, curbs, and gutters must be rebuilt and upgraded, there must be new signage and a variety of safety railings, "to bring it up to standards to prevent someone from crossing and being killed."
To get an idea of what's typically required by the State for at-grade crossings, Snow referrred me to Oregon Administrative Rules 741-110-0060 ("Required Installation of Specified Protective Devices") and 741-120-0025 (Sidewalk Construction and Maintenance").
So we have a situation where the City proposes designs and then ODOT reviews them, makes changes and suggestions and sends them back, and the negotiations continue.
It's still unclear what the full scope budget for the improvements might be.
In a statement released Monday, Parks said they anticipate that the permitting process could go into spring. That means any needed construction would happen in summer at the earliest and the issues could persist for many more months.
At this point the fence is down. And Parks doesn't appear to be eager to replace it. "We are evaluating how to address this," Ross says.
Stay tuned.
— Jonathan Maus: (503) 706-8804, @jonathan_maus on Twitter and jonathan@bikeportland.org
Never miss a story. Sign-up for the daily BP Headlines email.
BikePortland needs your support.