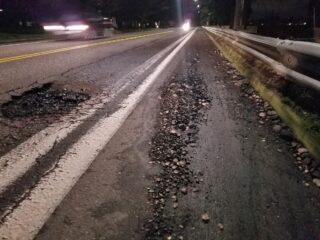 As if the snow and ice and gravel wasn't enough — now we are dealing with the scourge of potholes.
Potholes are nothing new, but this winter's storm has created an alarming amount of new ones. They're everywhere! Old ones are bigger and more treacherous, while new ones creep up where and when you're not expecting them. For people using a car, a pothole can damage your wheels and rims. But for people on a bike the risk is greater. In addition to equipment damage, potholes can lead to crashes and injuries.
Today the Portland Bureau of Transportation (PBOT) announced what we hope will be a salve for our wounded streets: "Patch-a-thon" is the city's new initiative that will aim to attack potholes with more maintenance crews. Here's more from the official statement:
"Starting tomorrow, the Portland Bureau of Transportation (PBOT) will launch Patch-a-thon, a new initiative to fill the numerous potholes caused by this season's many winter storms.


There is currently a backlog of more than 1,000 potholes that have been identified by residents and city crews. During Patch-a-thon, PBOT will dedicate extra crews and resources to address the current backlog. During normal operations, PBOT has two to three crews repairing potholes. During Patch-a-thon, this number will rise to 12 to 15 crews.

Transportation Commissioner Dan Saltzman will help kick off the effort by helping a crew fill a pothole on Thursday. The first two days of Patch-a-thon will be Thursday, Feb. 23 and Friday, Feb. 24. In the coming weeks, PBOT will hold a Patch-a-thon on those days when the weather permits effective and safe pothole repair. PBOT will continue Patch-a-thon until the winter pothole backlog has been cleared.

PBOT crews fill more than 8,000 potholes a year, working year round. The work is weather dependent and crews are sometimes diverted to emergencies such as landslides."
They've also published a map that allows the public to track where potholes have been recorded. Check it out below:

If you want to report a pothole, send a detailed description and photos to PBOT dispatchers at pdxroads@portlandoregon.gov or use the PDX Reporter App. You can also call (503) 823-1700, PBOT's 24-hour maintenance hotline.
PBOT will officially launch this effort tomorrow (2/23) with a media event on the NE Weidler – Broadway couplet near Martin Luther King Jr. Blvd at 9:00 am.
— Jonathan Maus: (503) 706-8804, @jonathan_maus on Twitter and jonathan@bikeportland.org
BikePortland is supported by the community (that means you!). Please become a subscriber or make a donation today.