Posted by Jonathan Maus (Publisher/Editor) on February 23rd, 2017 at 9:35 am
The weekend is right around the corner and we've got some great ride and event ideas to tempt you with. But before we get to them…
Have you noticed our events calendar yet? It gets better every day and in our biased opinion it has become the most comprehensive bicycling and transportation advocacy calendar in Oregon. We listed over 70 events this month alone (and it's only February!). It features a wide array of events — from advocacy meetings and town halls, to weekly group rides and special events.
It's easy to keep up with all the events: you can read this weekly event guide; check out the calendar pages in monthly, weekly, or daily views; and if you follow @bikeportland on Twitter you'll get an update each morning with a link to7 the day's events. If you want to help keep this resource strong, please support us via a financial contribution, subscribe or become a business partner (we offer weekly sponsorship of this Weekend Event Guide, and a whole lot more).
OK, now let's get to the events this weekend…
Friday, February 24th
Baja Divide Bikepacking Slideshow – 6:00 – 10:00 pm at Velo Cult (1969 NE 42nd)
In the depths of a tough winter, what could be better than a slideshow and storytelling session about a bike ride in Baja California? Our friends from Limberlost want to share their south-of-the-border adventures with you. More info here.
Saturday, February 25th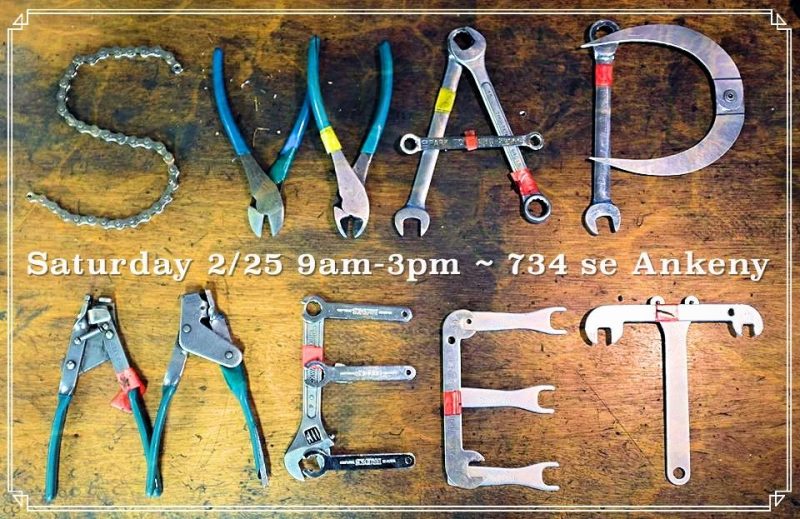 Citybikes Farewell Bike Swap – 9:00 am to 3:00 pm at Citybikes Annex (734 SE Ankeny)
The sad news is that the Citybikes Annex is closing for good. The glad news is they'll have one last blowout swap meet to say goodbye. Come and sell your used bike parts — or search for stuff you need. There will be booths from individual vendors as well as lots of items for sale from the shop itself; like tools, store fixtures, and "hidden treasures". $3 entry fee from 9:00 to noon, free after that. $10 for a 10×10 space. Come one, come all! More info here.
Timber Logjam Ride – 9:00 am at Banks-Vernonia Trailhead in Banks
There's sun in the forecast for Saturday. You know you want to get some fun miles in. Why not do it adventure-style with the folks from the "Unpaved" riding group? They've mapped out a 52-mile, 5,800 feet of elevation gain route that explores dirt roads and trails in and around Stub Stewart State Park and west into the small town of Timber. "Big" tires recommended. More info here.
Biking About Architecture – 11:00 am at Tula Bakery Cafe (4943 NE Martin Luther King Jr Blvd)
Portlander Jenny Fosmire will lead her first architecture tour of 2017. Join her for a "more fun than educational" look at the interesting and noteworthy houses of inner north Portland. Ride includes three carfree bridges, "artsy" pocket parks and a finish for drinks and food at Ecliptic Brewing on N Mississippi. Route is eight miles and pace is slow and laid-back. More info here.
Better Block 2017 Kickoff Fundraiser – 3:00 – 6:00 pm at Rogue Eastside Pub & Pilot Brewery (928 SE 9th Ave. (formerly Green Dragon))
The tactical urbanism superheroes at Better Block PDX are set to unveil their 2017 plans. This is the event to show up to if you want to support their work and get plugged-in to help them make this year's projects a reality. They need your brains, a bit of your money, and your help to continue their exciting work and keep the dream of street transformations alive in Portland. More info here.
Sunday, February 26th
Chehalem Ridge Ramble – 8:30 am (for breakfast) or 9:30 (to ride) at Diversity Cafe (230 E Main St in Hillsboro)
Shawn Granton from the Urban Adventure League is leading a 50-mile ramble from Hillsboro up into the Chehalem mountains. This is a often-overlooked riding area that is full of beauty and quiet roads. And there's no better ride leader than Mr. Granton — whose knowledge of regional lore and backroads is second-to-none. More info here.
20s Present, npGreenway Future Ride – 1:00 – 4:00 pm at Piccolo City Park (2535 SE 28th Ave)
It's Puddlecycle's last ride of the season! The route will explore the new 20s Bikeway from southeast to northeast and then head west to see the future path of the North Portland Greenway. If you've never explored the beautiful Willamette bluff overlooks, this would be a great ride to check out. Full loop back to Piccolo Park would be 23 miles. More info here.
BikeLoudPDX General Meeting – 2:00 to 5:00 pm at Beulahland Coffee & Alehouse (118 NE 28th Ave)
Get to know the fine folks who keep Bikeloud going strong — and then step up and join them! This is the group that puts "active" in activism and they need your involvement to make even more great things happen. More info here.
Have fun out there no matter what you do.
Did we miss anything? If so, give it a shout out in the comments.
For more fun events, including great stuff next week and beyond, visit our full events calendar.
— Jonathan Maus: (503) 706-8804, @jonathan_maus on Twitter and jonathan@bikeportland.org
BikePortland is supported by the community (that means you!). Please become a subscriber or make a donation today.