One of Portland's scariest places to ride a bicycle is about to be erased from the map and replaced with a new bikeway that is physically protected from motorized vehicle traffic.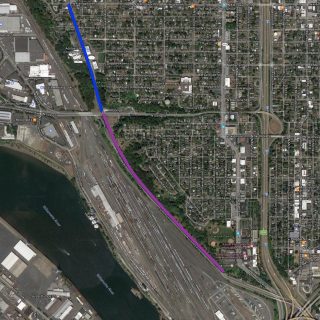 At last night's monthly Portland Bureau of Transportation Bicycle Advisory Committee, Portland Bicycle Coordinator Roger Geller shared plans for a two-way bike lane on North Greeley Avenue between Going and Interstate.
Current conditions on Greeley are very stressful for bicycle riders. Between Going (a major freight route from Swan Island to Interstate 5) and Interstate, the street operates like an urban "freeway" (to use Geller's words). It carries about 25,000 motor vehicles per day (14 percent of which are trucks) and a recent speed analysis showed people drive 56-59 miles per hour. At its southern end, Greeley leads directly onto an I-5 on-ramp — a ramp that crosses over a gap in an already unprotected bike lane.
Unfortunately, the Greeley freeway also happens to the most direct north-south bike route from St. Johns (and other north Portland neighborhoods) to downtown. Despite its nerve-wracking flaws, it carries about 700 bicycle trips per day (400 southbound, 300 northbound). The existing unprotected bike lanes are six-and-a-half feet wide but they feel much narrower with speeding vehicles passing by. The Greeley bike lanes are also notorious for being riddled with debris like motor vehicle-related detritus and gravel.
Here are two views of the southbound (west) side of the street…
And here's a bicycle rider making the jump across the bike lane gap across a freeway on-ramp with people driving 60 mph…
Finally there's a fix on the horizon.
Here's the cross-section being considered by PBOT for implementation…
At the meeting last night Geller said PBOT has a "Once in five year opportunity to reconfigure the roadway." The opportunity is a repaving project already in the PBOT pipeline that stretches about 3/4 mile from Killingsworth to Interstate. Geller and PBOT's Active Transportation Division constantly scan the paving project list for chances to improve biking conditions. "Once the street is paved, and if we just put the stripes back the way they are," he said last night, "we won't be able to touch it for another five years."
The City of Portland's Freight Committee supports this proposed protected bike lane because it would create safer conditions and keep vulnerable road users away from truck drivers.
PBOT's plan is to shift the existing four standard vehicle lanes to the west and create a two-way biking path on the east side of the street (see cross-section above). The path (which would also be open for walking and other non-motorized uses) would be 10-feet wide and separated from motor vehicle traffic with concrete jersey barriers. The width was a topic of conversation among Bicycle Advisory Committee members last night. 10-feet — which is the width of the path on the Hawthorne Bridge — isn't ideal by any stretch. Even the City's own bicycle design guidelines call for a minimum width of 12-feet for a shared-use path (the standard is 16 feet). When PBOT designs new bike lanes, the new normal is to try and make them eight feet wide. The proposed Greeley bikeway would offer ten feet of width when there's no opposing bicycle traffic — and half that when the path is shared.
Geller said PBOT recognizes that 10 feet for a shared path is "too narrow". However he said they're attempting to work within the existing pavement width and other project constraints. If PBOT sought to widen the road and path, Geller said it would double the cost (one BAC member suggested the possibility of a natural surface/gravel path to add some width and Geller liked that idea). As it stands, the bikeway element of the paving project will cost $650,000 — almost all of which will go toward the jersey barriers.
Another important wrinkle to consider is that Greeley is classified as a "priority truck street". Its location between Swan Island and I-5 make it a key route for big trucks. This means the convetional wisdom at PBOT is that nothing happens on Greeley without the support of the Freight Committee. We learned last night that the committee supports this proposed protected bike lane because it would create safer conditions and keep vulnerable road users away from truck drivers. In fact, PBOT is using the city's heavy vehicle user tax to help pay for it. This deal with the Freight Committee is a great sign of collaboration; but it also means compromise.
BAC member Reza Farhoodi asked Geller last night why this project isn't coming with a road diet that would trim Greeley from four standard vehicle lanes to three (and thus give more room for a bikeway). Geller said they considered a road diet, but with such high motor vehicle volumes, the city traffic engineers weren't willing to push for it (current volume is 25,000 motor vehicle trips per day and PBOT would need about 18,000 per day to strongly consider a road diet). Not only that, but a road diet isn't on the table, Geller confided, "Because we were seeking approval from the Freight Committee. They wouldn't have approved it."
If PBOT pushes for a wider bike path that leads to either less lane width for truck driving, they will likely lose support of their Freight Committee and up with no improvement to the bikeway. "If we want to advance the project now," Geller added, "we have to go forward with this."
Also coming with this project are new buffered bike lanes between Going and Killingsworth. The southbound transition from the bike lane at Going to the new two-way protected facility will come via a new signal. Riders will have to stop at Going, actuate a signal (likely via a button) and then cross over Greeley to continue south. The northbound transition will be much easier since the new protected lane will start right where an existing path drops onto Greeley (see photo).
Greeley is classified as a "major city bikeway" in the 2030 bike plan and its lack of safety has been an issue for many years. If this project goes forward — and Geller is confident it will — it would be a significant change and it would be in place by this spring or summer. If you'd like to share your feedback about the project, contact Roger Geller at (503) 823-7671 or roger.geller(at)portlandoregon.gov.
CORRECTION, 1:29pm: We initially stated the cost of the paving project (including the bikeway) is $650,000. That was incorrect. $650,000 is the cost of the proposed bikeway only. Sorry for any confusion
— Jonathan Maus: (503) 706-8804, @jonathan_maus on Twitter and jonathan@bikeportland.org
BikePortland is supported by the community (that means you!). Please become a subscriber or make a donation today.