UPDATE, 9:45 am on August 1st: Police have identified the woman as 25-year-old Lydia Anne Johnson. See end of post for details on how the crash happened.
A woman died this morning as the result of a traffic collision in southeast Portland.
According to the Portland Police Bureau, it happened around 8:00 am this morning at the intersection of SE 82nd and Flavel.
Here's a snip from the official police statement:
Officers and medical personnel arrived and located the adult female bicycle rider who was critically injured. Life-saving efforts were not successful and she died at the scene.

The adult male driver in a box truck remained at the scene and has been cooperating with investigators.

The Traffic Division's Major Crash Team is responding to conduct an investigation.
The location is just a few blocks north of the Springwater Corridor path. Here's an aerial view of the intersection: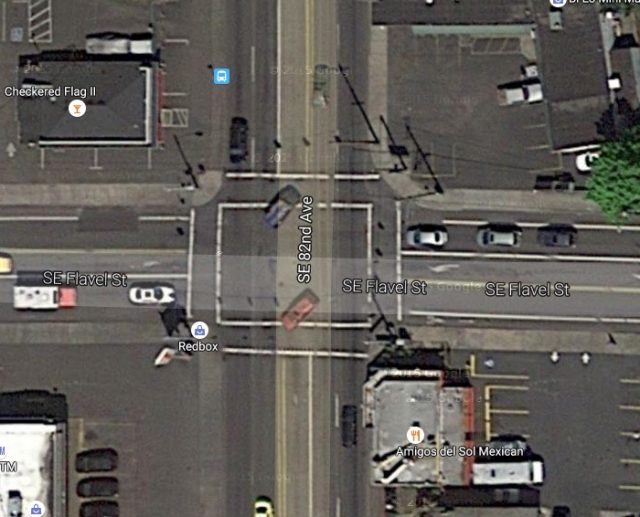 When the City of Portland launched their Vision Zero initiative in August 2015, they chose a location on 82nd (at Division) just just 2.5 miles north of where this fatality occurred.
According to the Portland Bureau of Transportation Vision Zero crash map, between 2005 and 2014 there have been two fatalities (one biking, one walking) and eight serious injuries (six people in cars, two people on foot) on this section of 82nd (between SE Lambert and SE Ogden).
While specific details haven't been released, the location of this crash is sure to re-ignite the frustration of Portlanders who want to tame these big and fast arterials. Vivian Satterfield, deputy director of the nonprofit OPAL Environmental Justice Oregon just posted her feelings to her personal Twitter account:
Active disinvestment and intentional under-investment by a number of agencies and jurisdictions (plenty of blame to go around) for decades.

— Vivian Satterfield 史一岑 (@vivianherself) July 30, 2016
This is the third fatal crash involving a bicycle rider in Portland this year.
If you have information about this collision or about this intersection in general, please share in the comments or get in touch with us directly at (503) 706-8804.
Stay tuned as more details are released.
UPDATE from PPB:
The woman killed on Saturday morning was identified as 25-year-old Lydia Ann Johnson. She died of injuries suffered in the crash.

The driver, 36-year-old Joel Silva, cooperated with investigators and did not show any signs of impairment.

Investigators determined that Silva and Johnson were traveling eastbound on Flavel Street when Silva turned right to southbound on 82nd Avenue and struck Johnson on her bicycle.

As is standard procedure, the case will be presented to the Multnomah County District Attorney's Office for a review and consideration of any possible criminal charges, once the investigation is complete. Any possible traffic citations would be issued upon completion of the criminal review of the case.

Anyone with information about this incident should contact Officer David Enz at 503-823-2208, david.enz@portlandoregon.gov.
— Jonathan Maus, (503) 706-8804 – jonathan@bikeportland.org
Our work is supported by subscribers. Please become one today.