Last month we were overjoyed to report that automaker Tesla had voluntarily agreed to build a segment of riverfront bike path behind its future showroom on Southwest Macadam.
If a new housing and retail project that entered the city's development pipeline Monday moves forward, it'd be the final piece of a continuous west-bank greenway from the Sellwood Bridge almost to the Ross Island Bridge — and in the coming years to Tilikum Crossing.
The vacant lot between Southwest Lowell, Lane, Bond and the Willamette River would get four new seven-story buildings with ground-floor retail and 200 to 300 apartments above, under a very early concept plan filed for a pre-application hearing by the local firm GBD Architects, which is representing San Mateo-based Prometheus Real Estate Group. Here's the site plan for the Prometheus project marking future "recreational trails" with a string of stars:
And here's a more detailed draft of a possible plan for the site, showing the curves of the "possible greenway trails" (which city plans will require the developer to install as a condition of development) along the river.
Zoom out a bit, and here's the full stretch of path along the waterfront, with each remaining gap marked: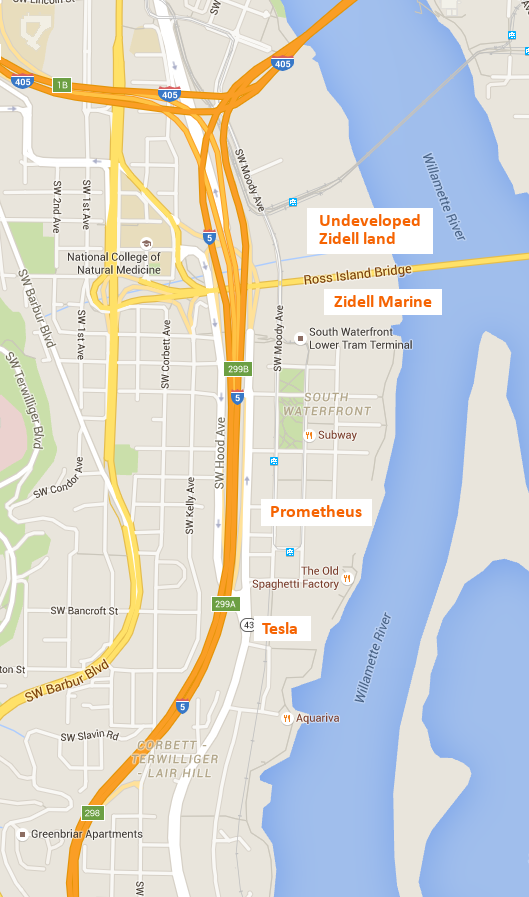 Here's what the (currently disconnected) greenway segment between the Zidell barge drydock and the Prometheus land looks like. It's one of the only paths in Portland to separate biking and walking:
The Zidell land might not fully develop into a planned extension of downtown's office-tower district for another 10 years. But the Portland Development Commission has agreed to build the path segment through Zidell's land itself using property taxes collected from new buildings in the area, so it could go in sooner.
Willamette Park is a bit below the southern end of the map above. As we reported last month, Multnomah County just completed the new path segment between the new Sellwood Bridge and Willamette Park.
— Michael Andersen, (503) 333-7824 – michael@bikeportland.org
Our work is supported by subscribers. Please become one today.