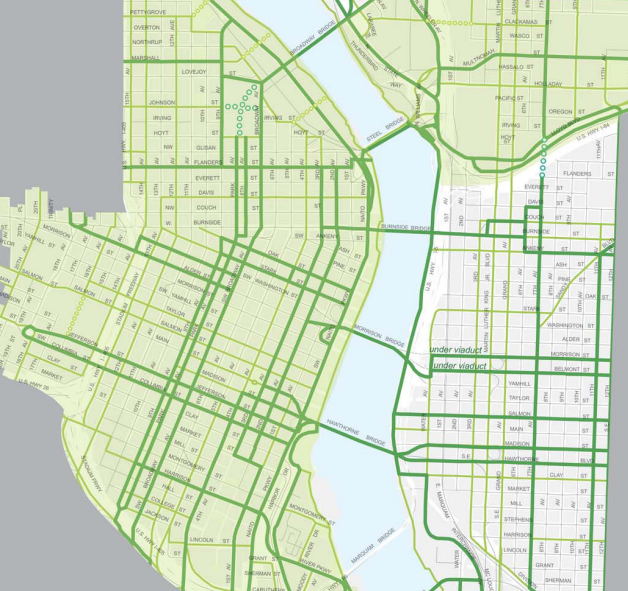 Some recent updates to a map of future bikeways in Portland's central city have advocates talking.
The map of "city bikeways" and "major city bikeways" (the difference between the two is that on "major city bikeways," biking is relatively more important compared to other modes) is the latest sign of which streets will be candidates for protected bike lanes in the $8.4 million Central City Multimodal Safety Project that's supposed to begin public outreach this summer.
The central city bikeway map has been refined since we covered an earlier version of it in February, but it's not yet finished. The current draft is the one being "proposed" by city staff, before approval by the Planning and Sustainability Commission or the City Council.
Feedback to the planning commission is due Aug. 9.
Among the notable details here:
• SW Alder Street, a useful connection between Northwest Portland and the Morrison Bridge, will be upgraded to a major city bikeway across Interstate 405, but only as far east as Broadway. Between Broadway and the river it would no longer be a designated bikeway.
• SW Washington Street would be upgraded to a major city bikeway between Broadway and I-405, so Alder/Washington would echo the existing Oak/Stark couplet closer to the river.
• SW Yamhill, where the westbound MAX tracks run, is no longer marked as a potential bikeway. Neither is Morrison, one block to its north, where the eastbound MAX tracks run. But Taylor, just south of Yamill, is now seen as a future bikeway. So is Salmon, the one-way eastbound street one block south of Taylor.
• As previously proposed, SW Jefferson and Columbia streets would become a major city bikeway couplet between SW 19th and Naito Parkway, making them major connections across Interstate 405 and almost to the Hawthorne Bridge.
• SW Harrison Street would be upgraded to major city bikeway as far west as the Park Blocks, creating a link between the South Waterfront (including Tilikum Crossing) and Portland State University.
• The city continues to pull back from the idea of Fourth Avenue, with its many garages, as a major northbound bike route through downtown. It's no longer marked as a major city bikeway north of Madison.
• SW Second and Third avenues, both of which are getting bike lanes in the Old Town area already, are now a major city bikeway couplet between SW Market and NW Flanders. This sets up two future routes to bike north or east from the PSU area: the Park Blocks to the Broadway Bridge or Columbia/Second to the Morrison, Burnside and Steel bridges.
• East of the river, SE 11th and 12th Avenues have been upgraded to major city bikeways (a change that was "literally applauded" when city staffers mentioned it to the Bicycle Advisory Committee on Tuesday, according to Jessica Engelman of BikeLoudPDX). And the city now envisions a direct north-south biking-walking bridge across Interstate 84 at 7th Avenue rather than cutting the angle to 8th and then jogging back to 7th.
ODOT approves "multimodal mixed-use area," giving downtown permission to evolve away from cars
This is essentially a way of locking in the idea that as new buildings arrive in the area, the city will simply let nearby auto congestion increase.
Another significant change for the central city, embedded in the proposed Central City 2035 plan, is the fact that downtown is becoming the first "multimodal mixed-use area" in the city of Portland. This is essentially a way of locking in the idea that as new buildings arrive in the area, the city will simply let nearby auto congestion increase.
In many other cities, developers are required to pay to increase the automotive capacity of nearby intersections, an expensive requirement that effectively shuts down new development in denser areas. In central Portland, this will only be necessary if the additional congestion causes a safety problem — for example, traffic won't be allowed to back up all the way onto a freeway offramp.
Because the Oregon Department of Transportation controls several freeway intersections in the area, it had to sign off on the city's proposal. It did.
"The concept is that if you have downtown and you have other modes — bike as well as ped as well as transit — and you have a mix of land uses that makes it possible to get around by those modes — that's good, that's something the State of Oregon supports," said Lidwien Rahman, a principal planner for ODOT's Portland regional office. "So you shouldn't have to worry about vehicle mobility because you can get around at those other modes."
Rahman said ODOT's only condition for signing off was that the city vet this plan with interest groups such as its freight committee and the Portland Business Alliance, which it has.
"As long as everybody knows that this is the choice you're making, it's all good," Rahman said.
In a somewhat related change, most of the central city will also be designated as a "bicycle district." This is another concept from the city's Bike Plan for 2030, defined as an area "with a dense concentration of commercial, cultural, institutional and/or recreational destinations
where the City intends to make bicycle travel more attractive than driving."
Analysis from BikeLoud's Engelman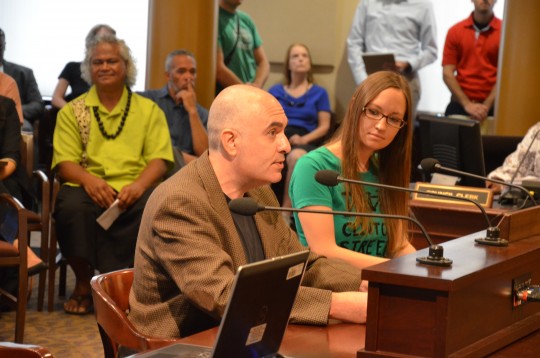 City transportation planners Mauricio LeClerc and Zef Wagner visited the Portland Bicycle Advisory Committee Tuesday to discuss the changes.
Engelman, who is a co-chair of advocacy group BikeLoudPDX, was one of those who attended. Below are passages from her report about the meeting.
On the "bicycle district" designation:
Does this mean putting sharrows and "bikes may use full lane" signs on every street? Re-time the lights to be at more of a bicycle pace? Minimum bicycle parking requirements? etc. These are the types of specifics that need to be determined for "bicycle district" to actually mean anything.
On reaction from the advisory committee:
A few BAC members had comments regarding specific streets: one thought was that SW 4th would be a better major city bikeway than SW 2nd because it could serve as a couplet with Broadway. There was also a call to attention regarding the lack of bike connections on the west side of the Morrison Bridge (considered an important issue because the Hawthorne Bridge is already over capacity during rush hour). There was support from a few members for a city bikeway designation on NE Davis east of 7th. And the room literally applauded the major city bikeway designation on SE 11th and 12th (something BikeLoudPDX strongly recommended in our testimony).
On the Central City Multimodal Safety Project:
The multimodal project is for ALL of Central City, not just downtown, although there is an expectation that most of the funds will go there, but with public support, a project or two from Lloyd or Central Eastside may also be able to draw from that pot of money.
And on the effectiveness of BikeLoud's testimony so far:
Fortunately they incorporated so much of what BikeLoudPDX requested last time that there's not as much to testify on this time around, except to again highlight which specific projects we think should be a priority, re-recommend the few things we didn't get in this draft, and maybe comment on a few streets' MCB vs CB classifications.
Correction 1:40 pm: An earlier version of this post confused Yamhill, Taylor and Morrison at one point, and gave the wrong name for a "multimodal mixed-use area."
— Michael Andersen, (503) 333-7824 – michael@bikeportland.org
Our work is supported by subscribers. Please become one today.