After the carfree Blumenauer Bridge across I-84 opened to the public in August, connecting Portland's Central Eastside and Lloyd neighborhoods via 7th Ave, the Portland Bureau of Transportation announced a suite of other changes coming to the surrounding streets to make the corridor more bike-friendly. In short order, PBOT made changes to NE Couch St and completed a controversial redesign at NE 7th and Tillamook, both done with the stated intent of making it more pleasant for people on bikes to use the network around the glitzy new bridge.
In addition, PBOT announced a plan to redesign 7th Ave south of the new bridge, including making changes between Washington and Stark streets. As someone who frequently bikes between southeast and northeast Portland via 7th Ave, I was very eager to see what PBOT would do here. But it's been nine months since PBOT announced their plan to redo this area and the intersection still looks the same. What's going on?
According to PBOT Public Information Officer Dylan Rivera, the project has been stalled because of contractor availability and weather.
This area is a bane of my biking existence, especially when traveling northbound: crossing from the bike lane on the east side of SE 7th when it turns into Sandy Blvd is one of the most complicated maneuvers I regularly make. It requires crossing two lanes of fast car traffic in an area with very poor visibility, all while watching out for more car traffic coming from the surrounding streets. I dread the experience every single time, so I was eager for PBOT to make some changes.
"We're awaiting the contractor to complete the work the project. We met with them earlier in March and they expected to begin the work in May or June, but it really depends on weather," Rivera wrote to BikePortland in an email. "They have a few other task orders in front of this one and they can't get started until we get some dry pavement."
In an April 7th letter to Central Eastside residents (PDF) PBOT Capital Project Manager Scott Cohen offered further details on the project. Cohen wrote that, when completed, it will entail:
Parking removal on the north side of SE Washington between SE Sandy and SE 8th
Traffic operational changes on SE Washington between SE Sandy and 8th (one-way eastbound only for motorized vehicles)
Traffic operational changes on SE 7th approaching SE Stark in both directions (right turns only for motorized vehicles)
"The project will result in improved safety for people walking and bicycling and a stronger connection between the Central Eastside and Lloyd neighborhoods," Cohen wrote. "Construction is expected to begin as early as May 2023 but may begin later in the year."
A different vision from Depave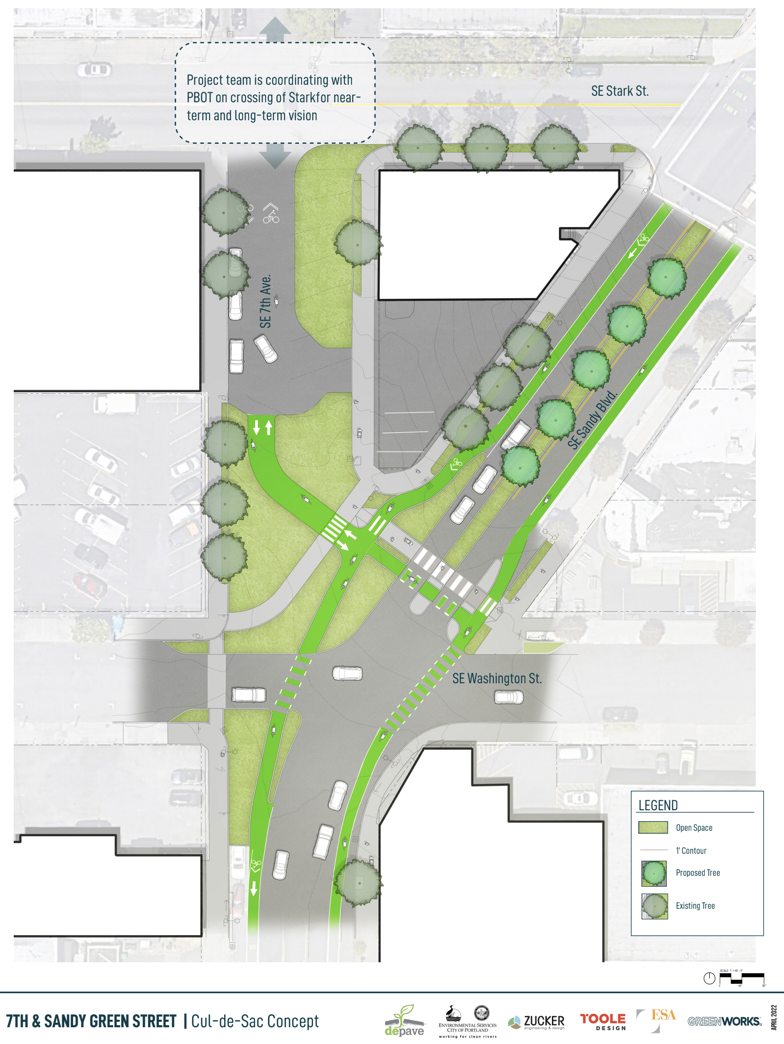 Some people might be frustrated with the lag on this project, but according to some advocates, this delay hasn't been all bad. One of these advocates is Ted Labbe, who heads the urban re-greening organization Depave. He and his team (along with other local organizations) have been working on a plan to redesign this area for some time, and they want to make sure that when it's done, it's done right.
Last summer, Depave hosted a block party at this intersection, setting up food carts, skate ramps and a performance area to demonstrate the space's potential to be more than a slab of concrete. A few weeks later on Parking Day, volunteers from Depave and the Parking Reform Network hosted a pop-up in the car parking space on SE 7th to further emphasize why this intersection needs to change. According to Labbe, the community response to these events revealed the need for radical change here. He said that while he thinks there are some urgent safety needs to address here, he wants to see a more fundamental shift in how this land is used.
"[The hazards concerning traffic calming and safety] are the most immediate things we want to address," Labbe said. "But beyond that, we're focused on making this a green plaza. It's not just about safety and mobility for folks outside of cars: it's also about creating a destination."
Portland's Central Eastside has a lot to offer, which is why it's a prime location for new multifamily developments. It's transit-dense and located in close proximity to a lot of major local attractions. But one thing it's missing? Greenery and tree canopy coverage.
"Folks in the Central Eastside have some of the lowest access to green space in the city," Labbe said. "We see [the intersection on SE 7th] as an opportunity, because it's a redundant portion of the street grid."
Labbe said Depave is working closely with the city on this project and the group is hopeful they'll be able to come up with a solution that everyone can be happy with. But this might take a little more time.
Depave is planning to activate this intersection with a weeklong event at the end of July, culminating in a block party on July 29th. This "activation week" will include mobile green infrastructure elements, pop-up retail and more, and Labbe said Depave is seeking business sponsors and partners to work with them to make the summer event great.
"We're just doing this by the skin of our teeth," Labbe said.
If you're interested in working with Depave on this project, you can get in touch with them here. People going to the upcoming Oregon Active Transportation Summit will also have an opportunity to hear about Depave's plans for this intersection, so stay tuned for more.
"We think the best opportunity is to layer all of these things together," Labbe said, referring to PBOT's street redesign concept and their own push for more urban greenspace. "Momentum will be building. We think we can move the needle on this."