The city says there's no room for future bike lanes on the most direct street between Northwest Portland's fast-growing residential area and the Central Eastside's fast-growing job district.
Instead, inner Southwest Alder Street is slated to become a "trafficway" offering automobile and truck connections to the Morrison Bridge and interstate highways.
Alder might also get a bus line, the city says.
Today, Alder has a parking lane on each side and two lanes of mixed eastbound traffic. At many of its corners, traffic signal poles sit in the curb extensions, making it quite expensive to pull those extensions back to make room for bike lanes.
Alder east of SW 6th.
But as we mentioned in an article last week, Alder also offers a straight shot from the bikeways on Northwest 18th/19th to the underused bikeway on the Morrison Bridge: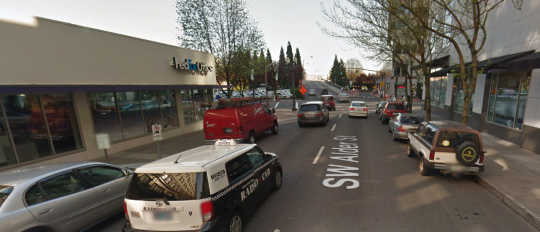 Alder between SW 2nd and 3rd, just before the Morrison Bridge.
Here's a look at the central city biking network envisioned last year in the city's West Quadrant Plan: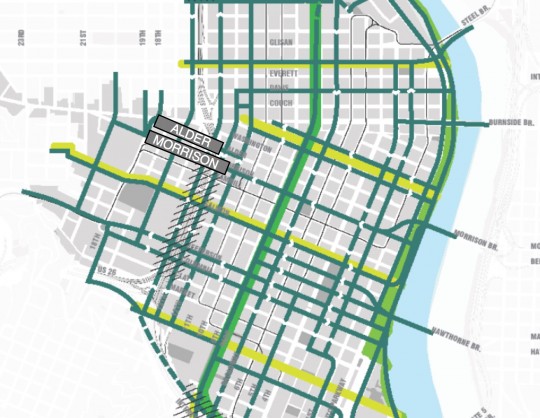 But Morrison Street, though it is marked here as a bikeway, "would have to be a shared street" for both cars and bikes, city spokesman John Brady said Friday.
Alder's convenient link between the two neighborhoods — the Northwest teens and 20s have 1,000 new residential units in recent or upcoming development, and the Central Eastside has added hundreds of jobs in the last decade — has caught the attention of some biking advocates. Here's Iain Mackenzie of NextPortland in a comment on last week's post:
A bidirectional protected bike lane on Alder would be fantastic. It could change the Morrison Bridge MUP from being one of the least used crossings of the river into one of the most used. On the West side the City is already looking at ways to better connect the NW 18th and 19th bike lanes to SW Alder. On the East Side the City is planning a Morrison-Belmont bikeway couplet, including using the roadway under the viaducts and making SE Morrison between Grand and 12th one way in order to add a bike lane. All these projects together would not only connect Northwest to the Central Eastside, as mentioned above, but would also provide a great new connection from inner SE into Downtown.

All of which is by way of saying that it's very odd that in the Transportation System Plan section of the draft Central City 2035 plan (published yesterday) it is proposed to remove the "City Bikeway" designation from SW Alder between 2nd and 12th.
We thought that was odd too, so we asked the city about it. Spokesman John Brady's response was prompt and thorough. The answer is that the city is proposing to jog part of the future Alder bikeway three blocks further south.
On Alder in particular, lane capacity is needed to serve motor vehicle traffic leading up to the Morrison Bridge."
— PBOT
That'd create a six-block gap between the Oak/Stark and Salmon/Taylor bike lane couplets. However, people would also have the option of shortening this route by sharing the lane with cars on the Morrison/Yamhill couplet. My emphasis added:
The proposed street classification updates for the downtown portion of Central City 2035 are in large part reflective of the concept maps that were included in the adopted West Quadrant Plan. Those concept maps attempted to outline a more clear set of emphasized modes for each street, recognizing that with narrow right-of-ways in the Central City, we will not always be able to emphasize all modes equally. At the same time, we made every effort to respect the intent of the Bicycle Plan for 2030 to create a comprehensive network of bikeways in the Central City.

The West Quadrant Plan shows Alder and Washington from the Morrison Bridge to Broadway as "Freight & Motor Vehicle" streets. On Alder in particular, lane capacity is needed to serve motor vehicle traffic leading up to the Morrison Bridge, and freight loading zones are needed to serve retail uses along the street. Though Alder is not shown as a Transitway on the Transit map in the West Quadrant Plan, there is interest in introducing bus service to Alder in the future. We have proposed switching the Transit Access Street designation from Salmon to Alder to reflect the City's interest in switching bus service from Salmon to Alder so that Salmon can more easily serve a City Bikeway function. In short, the proposal is that from roughly SW 2nd Ave to SW 12th Ave, Alder and Washington would emphasize Freight, Motor Vehicle, and Transit modes. West of 12th Ave, it would primarily emphasize the Bicycle and Transit modes.

The Bicycle concept map from the West Quadrant Plan shows Morrison and Salmon as a main bikeway couplet connecting the Morrison Bridge to SW 20th, with Alder as well from 18th to 12th to provide the necessary connection from the NW 18th/19th couplet. When PBOT staff considered this map, we recognized that a three-block-wide couplet may not be intuitive for bicycle travel, so our proposed classifications in the Central City 2035 Discussion Draft show Salmon, Taylor, Yamhill, and Morrison as City Bikeways. These two couplets would provide different experiences and may serve different rider types, since Salmon/Taylor would most likely be separated bike lanes whereas along the light rail lines on Yamhill/Morrison it would have to be shared street facilities.
With two parking lanes and two travel lanes, Alder is wide enough for two auto travel lanes (one of which could be a dedicated bus lane), plus a parking/loading lane on one side and a one-direction protected bike lane on the other. Or it could become a one-lane street for auto traffic with two parking lanes and a narrow bidirectional protected bike lane.
Another option would be for the city to convert the single auto lanes on Morrison and Yamhill to wide bike laness, a sort of east-west car-free transit mall.
Another option would be for the city to convert the single standard lanes on Morrison and Yamhill to wide bike-only lanes, a sort of east-west carfree transit mall. With one exception on Yamhill and 6th, inner Southwest Morrison/Yamhill are the rare downtown streets that don't have a single parking garage or other curb cut facing them.
But despite its policy to generally prioritize public transit over auto traffic and bike traffic over both, the city isn't planning to do any of those things.
Another option would be to improve Yamhill and Morrison for biking by adding one or more traffic diverters. This would reduce the number of cars on them without making them fully car-free. Except for its general neighborhood greenway standards, which arguably would require those diverters, the city hasn't yet made explicit plans to do that, either.
The city is, however, encouraging people to submit comments on its Transportation System Plan through the end of this month.
"The easiest way to comment is to email cc2035@portlandoregon.gov," Brady wrote on Friday. "City staff at BPS and PBOT will review public comments and revise the document to create the Proposed Draft in May 2016."
It's worth mentioning that there's good news for biking in the city's latest plans too. We'll cover some of those in an upcoming post.
Update 2/16: We've added another route, on Yamhill, to the map at the top of this post to reflect the possibility that traffic diverters might make it function as an all-ages bikeway through downtown.
— Michael Andersen, (503) 333-7824 – michael@bikeportland.org
BikePortland can't survive without paid subscribers. Please sign up today.