Posted by Jonathan Maus (Publisher/Editor) on February 25th, 2010 at 1:25 pm
Commissioner Fish in front of a map of
Forest Park at a roundtable
discussion last April.
(Photo © J. Maus)
Exactly one year ago today, newly elected City Commissioner Nick Fish made a bold proclamation about the future of mountain bike access in Forest Park. Following an unprecedented groundswell of community enthusiasm and activism calling more bike access in the 5,000 acre urban natural area, Fish told me, "I think there is a need and there is a demand and my job is to see how we can make that happen. I'm not interested in delaying this."
Fresh off his election to City Council and as the newly appointed commissioner in charge of the Parks bureau, Fish said he brought a "fresh look" at the situation. He continued:
"My interest is not in studying this to death, it's seeing what we can actually do. I assume everybody comes to the table in the good faith. I am committed to finding ways to significantly expand our current inventory of single track trails."
Following that statement, Fish and his staff threw themselves helmet-first into the issue. The commissioner convened a mountain biking roundtable which led to the formation of the Forest Park Single Track Cycling Committee.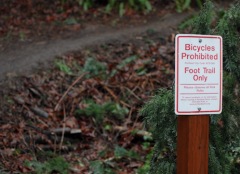 Bikes are currently allowed on
0.3 miles of trail in Forest Park.
Now, after an unauthorized mountain bike trail was discovered in Forest Park, there is new scrutiny on the issue. Commissioner Fish, whom I spoke with this morning, says the illegal trail will make the committee's work tougher, but he has not wavered in his promise to find more riding opportunities in the park.
How will this illegal trail impact the process?
"It clearly makes it harder because those participants who have been skeptical all along will cite that as evidence to support their position… But this is not going to derail the effort."
The effort might not be derailed, but the illegal trail has already delayed the process. And, as everyone who has followed the health care debate on Capitol Hill knows, delay can be deadly for new policies.
Doing it the legal way.
Tonight's committee meeting was supposed to include up or down votes on specific proposals for trail access options that had been worked on by committee members for several months. Now the agenda has been changed. According to Fish staffer Elizabeth Kennedy-Wong, tonight's meeting will focus on "What management practices we need to have in place in order to support the addition of new trails and prevent illegal trails from happening."
For members of the committee that have expressed opposition to increased bike access in the past, this illegal trail might add fuel to their fire. But so far, Fish sounds like he won't allow them to paint this "unfortunate incident" with a brush that marks the entire discussion:
"The argument that this trail should preclude any further discussion or movement on single track opportunities is tantamount to saying that since drivers that run through red lights we should ban driving."
People who don't share Commissioner Fish's enthusiasm for more bike access in the park will be happy to delay concrete decisions (think of it as the Forest Park filibuster), but Fish hopes to stay the course. A public open house to view new trail access recommendations is tentatively scheduled for April 22nd. With luck, off-road trail advocates hope they'll be riding new trails by late summer.
To stay true to that timeline, Commissioner Fish, the Director of Parks Zari Santner, and the committee members must be able to move beyond this illegal trail and get back to the important work of coming to a compromise.
The charge of the committee is to find where and how bike access can be increased, not if it should be increased.
As Fish said in a letter to the committee yesterday, "We know there's a demand for single track trails, but there's a right way and a wrong way to meet this need." Thankfully, the committee is full of very smart people who know the way — now it's just a matter of heading down the right path.
— For more coverage, view all stories in our mountain bikes in Forest Park tag.
Jonathan Maus is BikePortland's editor, publisher and founder. Contact him at @jonathan_maus on Twitter or via email at maus.jonathan@gmail.com or phone at 503-706-8804 (texts ok).