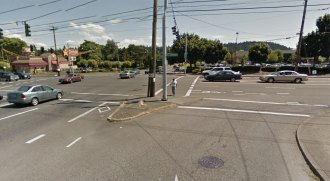 The bus operator was in this lane prior to collision.
The Portland Police Bureau have given the driver of a school bus two citations for her role in a collision that killed a 43-year-old woman who was walking across a southeast Portland street.
Renee Bates was walking on SE Division with her husband Shawn Bates on Tuesday afternoon when they attempted to walk eastbound across SE 148th (from the northwest corner). At the same time, 55-year-old Billie Jean Neel was attempting to make a right turn onto Division from 148th. Neel failed to operate her bus safely and ran over the Bates couple. Shawn was not seriously hurt but Renee died from her injuries later that day in the hospital.

While the investigation into the collision is still ongoing, the PPB just announced that Neel has been issued citations for Careless Driving Causing Death to a Vulnerable Road User and two counts of Failure to Yield to Pedestrians in a Crosswalk.
This is one of the very few cases we're aware of that has triggered the Vulnerable Road User law. That provision was attached to the Careless Driving infraction thanks to citizen activists and advocates at the Bicycle Transportation Alliance back in 2007. Prior to its existence, Neel would have been able to mail in a small fine and would never have to appear in court for her actions. However, since the VRU statute has been used, Neel will now have to complete a traffic safety course, perform 100-200 hours of community service, have her license suspended, and pay a fine of up to $12,500.
The intersection where this occurred is wide, fast and completely dominated by auto, bus and truck traffic. The right turn lane Neel was using is separated with its own median and the corner is curved to make it even easier for someone driving a car to turn unsafely without stopping.
SE Division is one of (if not the) most dangerous and notorious street in Portland with at least one fatal collision occurring every year for the past few years. It has been identified as one of 10 "High Crash Corridors" by the City of Portland. According to official collision data, the percentage of crashes involving people walking on Division is about 50% higher than the Citywide average. The City has also determined that about 40% of everyone who drives on Division is going faster than the speed limit (which is 40 mph east of 122nd). In an official High Crash Corridor report on Division, the City stated that, "Reckless driving is overrepresented as a crash factor," on Division.
In their coverage of this incident, KATU reported that, "This is the second almost-identical crash at this crosswalk in just a few years. Because of that, Portland Bureau of Transportation engineers said they will see if they can take any measures to make the intersection safer."
And yesterday, about 1.3 miles west of this tragedy, a man who was bicycling near the intersection of Division and 122nd sustained life-threatening injuries after being involved in a collision with someone who was driving a van. The PPB has yet to release many details on that incident, except to say that the victim remains in the hospital and is "expected to survive."
Isn't it time we said enough is enough? When will the city and their state partners stop hanging banners and working around the edges and start making real changes to the outer portions of Division? Reckless and dangerous driving is clearly the problem here. Until we stop being afraid to address that fact head on — and make engineering and policy changes that have significant impacts on people's driving habits — nothing will change.
If you're O.K. with this carnage than just keep doing the same thing. Business as usual.
— Read more coverage of the Renee Bates tragedy at KATU.com.
Contact Jonathan at @jonathan_maus on Twitter, via email at maus.jonathan@gmail.com, or phone/text at 503-706-8804. Also, if you read and appreciate this site, please become a supporter.