Posted by Jonathan Maus (Publisher/Editor) on July 8th, 2013 at 10:37 am
This new culvert will improve wildlife passage;
but it comes with a detour off the Westside Trail.
(Image: Multnomah County)
Multnomah County has announced a major detour that will impact people who ride bicycles between downtown Portland and the Sellwood Bridge on the west side of the Willamette River.
As part of the Sellwood Bridge project a County contractor is replacing the culvert that crosses Stephens Creek under the trolley tracks between SW Miles Street/SW Taylors Ferry Road. Crews have put a detour in place (see graphic below) that will impact users of the Westside Trail until at least early 2014.

County spokesman Mike Pullen says users of the Trail who are headed southbound from Portland will be directed off the trail at SW Nevada Street and onto the sidewalk on the eastern side of SW Macadam Avenue. Trail access will begin again at the driveway to the Macadam Bay floating homes.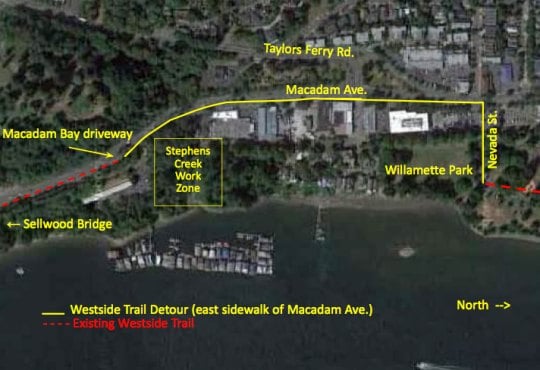 "We know this detour is not ideal," says Pullen. He adds that the County plans to improve the detour with a temporary bridge across Stephens Creek in early 2014, "so we can reopen most of the old trail while we complete our project."
Because riding out of one's way and against traffic on the sidewalk of a busy arterial, Pullen says the contractor has already reported "problems" with people entering the work zone and trying to follow the existing Trail route. Pullen says it's unsafe to enter the work zone. "I think the detour signage and fencing are pretty clear."
Pullen is asking for feedback on the detour and wants to hear your comments if you have ideas on how to improve it.