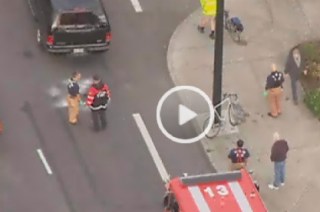 Still from KGW video footage this morning.
This morning there was a serious collision on N. Broadway between N. Flint and N. Wheeler — an intersection that has been identified by the City as one of the worst in Portland for bike/car collisions. According to reader who rolled up on the aftermath, it happened at about 6:30 am. The collision was also spotted by KGW's Sky8 chopper as it flew over the area checking morning traffic.
Reader Jo Price says he saw a police officer, "loading up a very smashed up bike," into a patrol car. I haven't gotten word about the rider's condition, but judging from the shattered windshield of the SUV seen on the KGW footage (below), it was likely somewhat serious.
Check out the image shared by a KGW Sky8 pilot via Twitter:
For another look at the collision's aftermath, watch the KGW video:

For close readers of this site and for anyone who has ridden through that area, the news of a collision at this spot will come as no surprise. There is a long history of safety problems at this intersection that especially impact people on bikes. Some people do not come to a safe stop as they enter Broadway after riding down Flint. The bike lane on Broadway is also downhill westbound and many people driving cars and trucks turn right onto N Wheeler without properly yielding to traffic.
In 2007, in response to several high-profile right-hook collisions, the Portland Water Bureau (whose headquarters are a few blocks northwest of the area) prohibited their own vehicles from using N Wheeler. In 2008, the Portland Bureau of Transportation (PBOT) announced a trio of safety fixes, one of which included new pavement markings aimed at improving stop sign compliance by people on bikes entering Broadway from Flint.
Unfortunately, PBOT's fixes have been just tiny baby steps in actually addressing the issues at this intersection. In 2010, we again detailed the persistent problems at this intersection.
People frequently turn right without properly yielding to bike traffic at this location.
A Portland Public Schools vehicle turns right onto Wheeler from Broadway.
The daily snarl looking east on Broadway at the Flint/Wheeler intersection.
This morning's collision — and the lack of any significant engineering fixes since the problems have been identified — show that PBOT needs to pay more attention to this intersection before any more people are hurt.
The Eastside Streetcar Loop project was once expected to pump some funds into a solution, but that has not come to pass. Then City and ODOT embarked on the major N/NE Quadrant logo and I-5 Broadway/Weidler Plans process, which has addressed this area directly. In fact, there's a public meeting on that planning process tomorrow (Thursday) night from 5:30 to 8:30 pm at the Rose Garden's RoseRoom. PBOT and ODOT will unveil their Draft I-5 Facility Plan and will be accepting comments.
Betsy Reese, who owns the Paramount Apartments directly adjacent to this intersection, has been actively involved in that process and has been advocating for safety improvements for years. I have yet to delve into the finer details of the I-5 Facility Plan, but Reese says she believes things are "headed in the right direction." (Please learn more about that project.)
Unfortunately, to my knowledge no significant funding has been identified to implement the N/NE Quadrant plans, nor has the streetcar project set aside any money to improve the intersection. I'm headed out there today to tape some coverage of the area for a KGW news story today. Hopefully more attention on these issues will result in action.
As reader Jo Price shared with his email after seeing the aftermath of this morning's collision, "When will the insanity stop?"
UPDATE: The PPB just shared more info about the collision:
This morning, Wednesday June 6, 2012, at 6:17 a.m., Portland Police officers assigned to North Precinct responded to the report of a traffic crash involving and SUV and a bicycle.

Officers arrived and learned a 2005 Ford Expedition, driven by 59-year-old Michael Scott McLerren, was travelling westbound on North Broadway and stopped to make a right turn onto North Wheeler Avenue, yielding to westbound cyclist who was also approaching the intersection, but behind the Expedition. The cyclist, 30-year-old Karl Thomas Zickrick, apparently swerved into the back of the Expedition, shattering the back window.

Zickrick suffered facial and head injuries and was transported to an area hospital for treatment. None of the injuries appear to be life threatening.

Although a traffic crash investigation was conducted, no citations will be issued as the driver of the SUV was properly yielding to the cyclist.